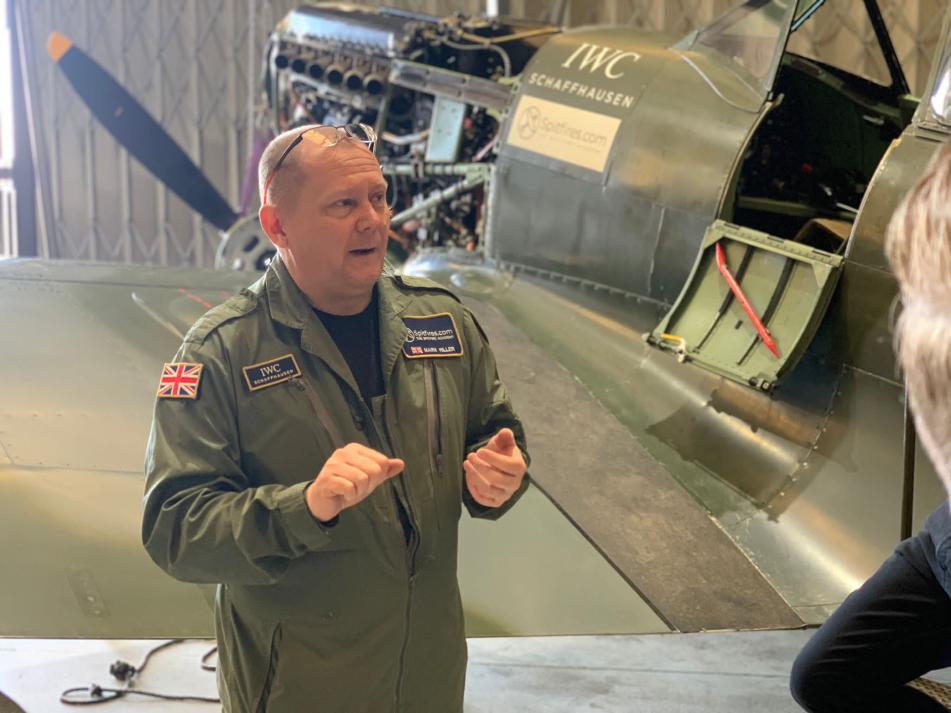 Spitfires.com
After many years of helping out at Spitfires.com I am excited to announce that from 1st April 2022 I will be joining the team at Goodwood as Head of Operations. At long last I will be able to combine my passion for Spitfires and aviation history along with my skills from the past 30 years of aviation into one role. I will also be able to help share the knowledge I have gained on RAF Westhampnett with out customers. This new opportunity will probably slow down the book production but I will be finishing off Tangmere in 100 objects for this year and hopefully getting An Airman Under Fire out with Frontline (the story of Joe Roddis). Stay tuned for the next update.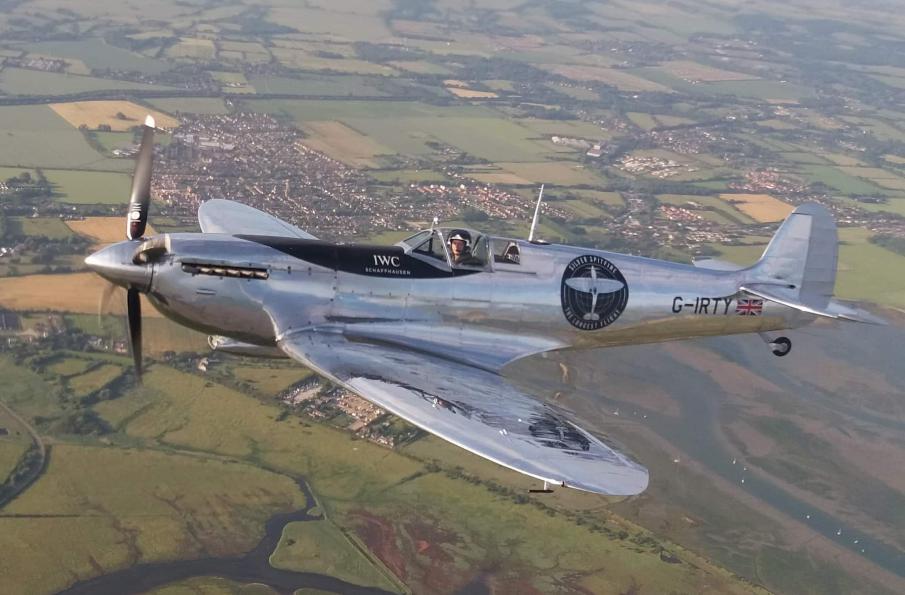 The Longest Flight
I am pleased to be working with Matt Jones and the Longest Flight team on the production of a coffee table book on the amazing achievement of the team in 2019. The book is in its infancy at present and awaiting the go ahead but an exciting project non the less. I will upload more news on the project as and when details become availaable.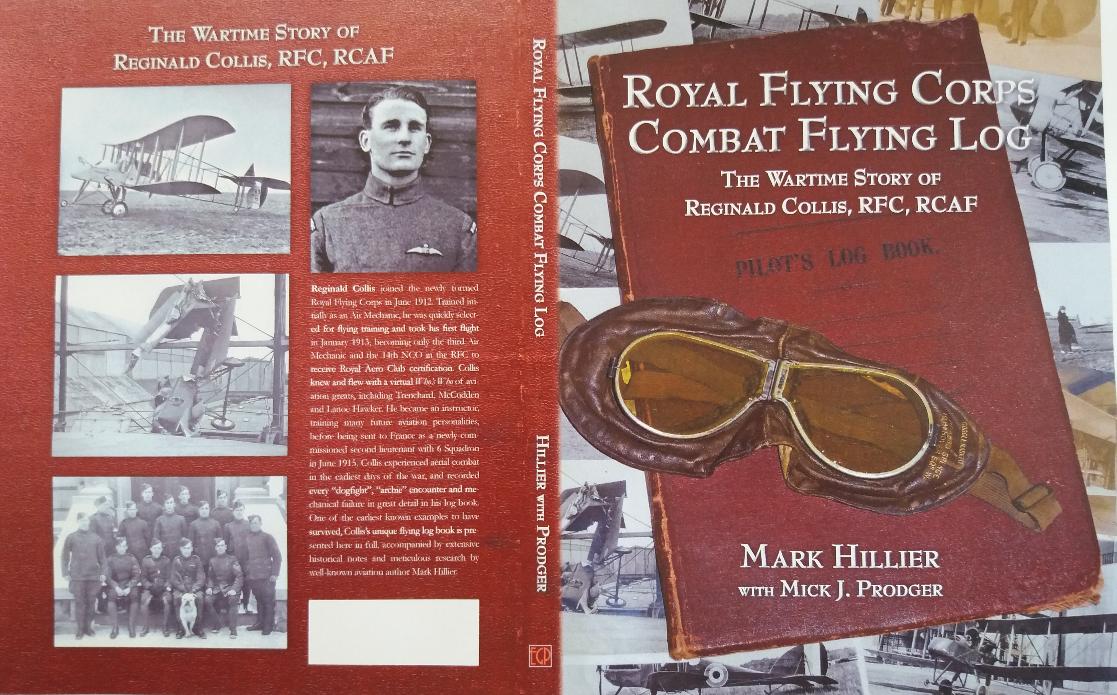 New for 2021, Royal Flying Corps Combat Flying Log
I am pleased to announce a new book for 2021 in collaboration with Mick Prodger of Elm Grove Publishing ( www.elmgrovepublishing.com). During lock down, I decided to get on with a few projects that had been niggling away in the back of my brain. I had been the fortunate owner of a very early RFC log book to a chap called Reginald Collis who was one of the very first few to join the Royal Flying Corps. He was actually the 109th person to be accepted to the RFC, joining as an Air Mechanic as he had previous experience working on a Bleriot monoplane. He then went on to become a pilot, receiving the 412th Royal Aero Club certificate to be issued. He was one of the first air mechanics to be trained at the newly formed Central Flying School at Upavon. He went on to serve over the Western Front with 6 and 16 Squadrons, flying with some interesting characters and being involved in all sorts of scrapes, mechanical failures etc. His log book is very unique in the style and also the additional notes that he made on each sortie. I felt it would make a fascinating project to research his early career and see who he flew with. As well as a detailed write up of his fascinating career, Mick and I have left in the research notes amongst the text to help any one who is interested in knowing how to look up military records and resources that area available. The log book has been reproduced in its entirety also as its such a beautifully written primary source document. Sadly after 280 hours of flying and combat, Collis is withdrawn from flying and becomes an instructor on engines, remaining in the RFC/RAF until the end of the war. He then goes on to be part of the RCAF through to WW2. A fascinating write up of an early aviator and one that will be of interest to anyone with a passing interest in early aviation and the RFC. Watch this space to find out about price and availability.
News 2021
I am very pleased to announce that I have been elected a member of the Royal Historical Society in recognition of my work and contribution to aviation writing. I am very honored to have been accepted and look forward to delivering more publications over the coming years. Thanks to everyone supporting me and to my family for putting up with me keep disappearing off to the study. So what's new? Still working on Tangmere in 100 objects with Martin Mace and that should be finished this year fingers crossed! Working on a new project with Mick Prodger of Elm Grove Publishing in the USA! More news to follow! I am also now helping out at Tangmere museum as officially part of the curatorial team now rather than ad hoc. I'm looking forward to getting stuck into their excellent library and log book archive as well as their medal collection. If you have not been, its an excellent museum, now open after COVID. I am still working on Bomber Command Kit Bag although its way behind at present as I need to visit collections to get photographs. Onwards and Upwards .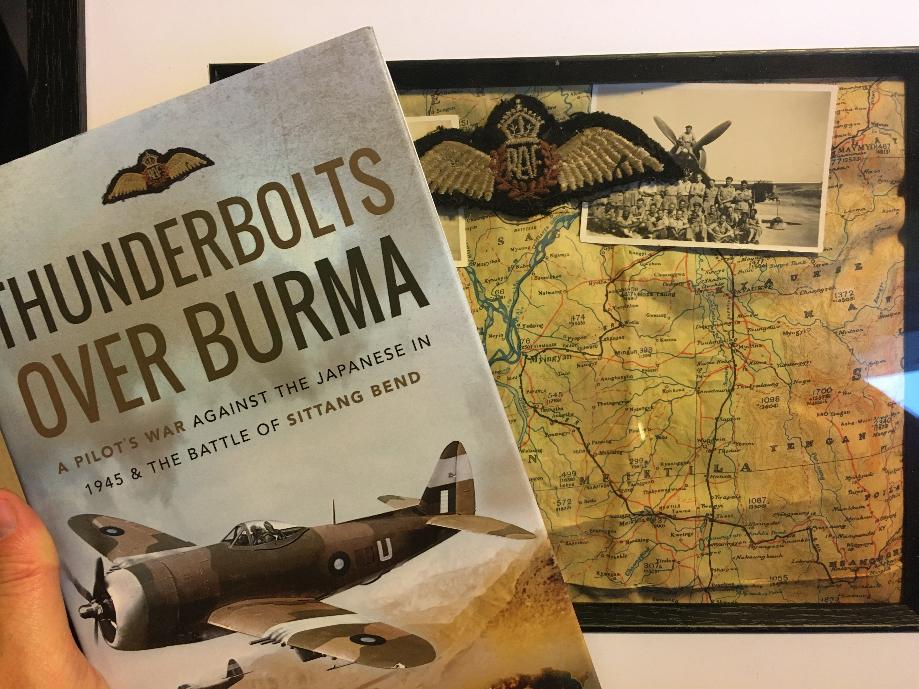 Thunderbolts Over Burma, now out on sale!
After a pause due to Covid 19, the publishers finally received the copies of Thunderbolts last week and I am pleased to say that it is now on sale! I have been in contact with the family of Angus Findon and been able to provide them with copies of the voice recoding's made by Angus in the 1980s. Sadly John Gadd who was instrumental in helping bring this project to fruition and who wrote the foreword for me has sadly since passed away. Without Johns forethought to record the meetings with Angus nearly 40 years ago this book would not have existed. Thanks must also go to Richard Knight who introduced me to John. The book is on sale at the Pen and Sword website or can be found on amazon. John kindly left me some of Angus's mementoes including his escape map, wings and log book. The photo below shows the escape map which has sadly deteriorated due to being constantly wet when Angus flew with it in 1945 over Burma. I have also decided to re-unite the log book back to the family where it will be cherished and looked after.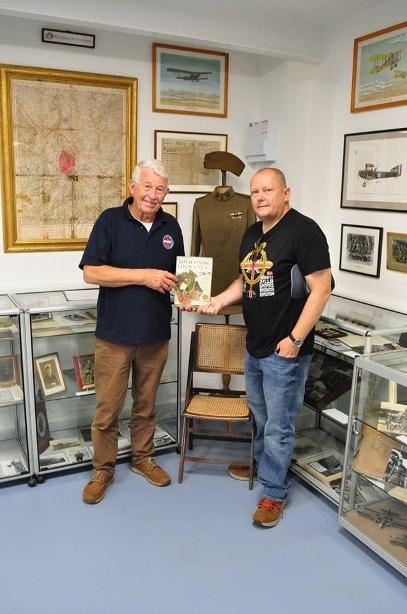 Book launch of Royal Flying Corps Kit Bag
One of my relatives served with the Royal Flying Corps in WW1 as an engine inspector on domestic aircraft production and it was my research into his service records that sparked my interest. Having flown open cockpit aircraft for 15 or so years I also knew how tough it can be at certain times throughout the year, flying in all conditions. How did these early aviators cope with extreme cold for example? What equipment was available too them?
I started collecting RFC flying clothing, log books and ephemera about 3 years ago and alongside this started my research at the National Archives at Kew to see what information was available with regards equipment and issue to aviators. I found some fascinating information about the early air battalion of the Royal Engineers and also the early years of the RFC. Finding reference to flying equipment and clothing, badges and paperwork in established texts was no easy task and although there are some good references, you cant find it all in one location. My new book is a look at flying equipment, clothing, uniforms, badges and paperwork from the early years of military aviation around the time of the Air Battalion in 1912 through to the transition of the RFC to the RAF on the 1st April 1918, with a reference to transitional uniforms of the RAF too. I have placed photos of the kit alongside period images with a brief description of each as a reference to help all those with an interest in WW1 pilots and observers of the RFC on the western front.
The book is now on general sale but I will be holding a book launch at the wonderful Boscombe Down Aviation Collection on the 29th August from 10am.
They have a fabulous Royal Flying Corp Collection that has recently been put on display which I had the pleasure of viewing just after the opening. I met the RFC Curator Roger, and was able to present a copy of the book for their reference. More details of the museum can be found at :-
http://www.boscombedownaviationcollection.co.uk/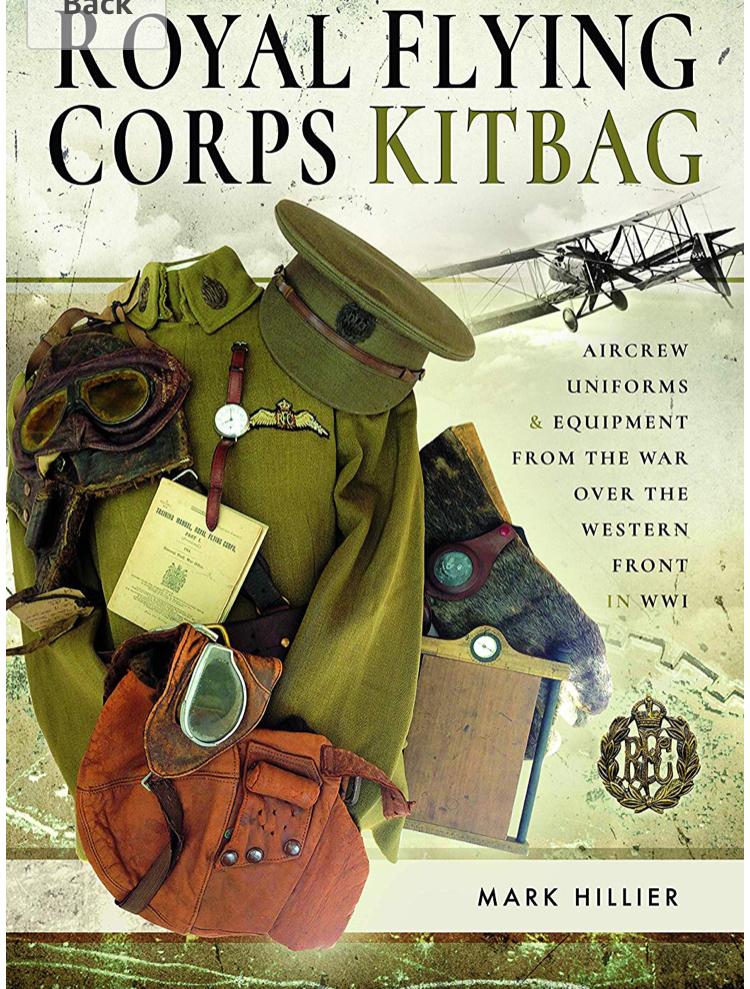 Angus Findon is alive!
After spending a three years researching Angus Findon and his time flying the P47 in Burma, I was recently contacted a chap in a Dorset village asking me if my Angus was the same chap that lived next door! I was totally blown away by the prospect that maybe Angus was alive. I had done some research into Angus and his movements but had no joy over the years and was told he had passed away. After checking the facts we managed to work out that Angus was indeed alive! I have since been in contact with his family and managed to arrange a visit to meet Angus who is now 97 to show him a proof copy of the book and cover. A day I thought I would never have and what timing, just before the book is launched and the 75 anniversary of VJ day.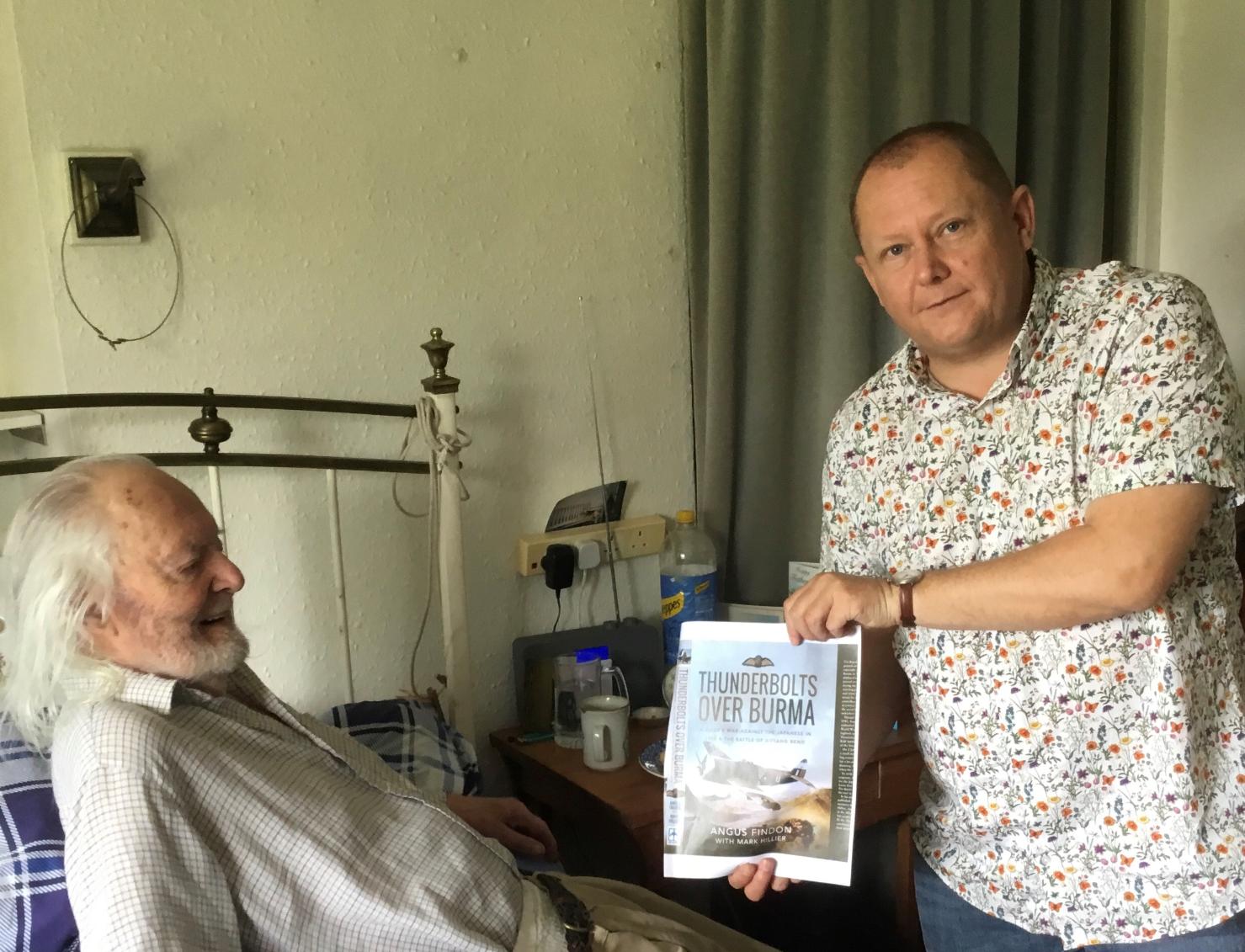 New Book Series, launched at Tangmere, both of the Battle of Britain kit bags are now on sale.
In have always been interested in the events of the Battle of Britain and the aircrews on both sides who took part, but my personal focus is in the human story not the chronological or squadron histories. What was it like for the young fighter pilot during that period, what was the equipment like and what difficulties did the crews face. Having studied the story of the RAF with regards its development and issue of equipment it was also my desire to do the same thing with the Luftwaffe kit and compare and contrast. I have been fotunate that Pen and Sword have allowed me to produce both the RAF and Luftwaffe Kitbags in their new series.
The questions that I was keen to find answers for included, were the Luftwaffe more technologically advanced than the RAF, had they thought more about the equipment required for the fighter pilot of the day and was it fit for purpose?
It is obvious from the established research already carried out that certainly the Luftwaffe had thought long and hard about the flying equipment they had issued to their crews and they certainly had much more to choose from, even considering different types of equipment for different climates, with summer and winter flying suits, for wear over water and land.
They had also had chance to use the equipment in anger and learn from their experiences during the Spanish Civil war and Blitzkrieg in 1939 through Poland. This is particularly clear for example when you look at the flying goggles used by the Luftwaffe which pretty much centred around three types honed and developed from experience, whereas the RAF took quite a while and nearly 13 types, developed throughout the war to end up with a good set of goggles fit for most purpose.

What is clear is that the Luftwaffe fighter pilots certainly went for a more dashing look and were brasher if you like compared to their RAF counterparts, with their leather jackets, riding breeches and top boots or jack boots, looking like they were ready to mount their steed and ride into action. Often kit was worn against standing orders but for the fighter pilots this was often overlooked.
The RAF pilots were more reserved and stuck to smaller statement pieces of individual uniform adjustments mainly for practical reasons like the silk scarf that served a purpose. The only showmanship if you like was the unbuttoning of the top button on the tunic to signify the mark of a fighter pilot. The Luftwaffe pilots and crews were also supposed to remove their metal awards and flying badges before operations yet many POW photos show Luftwaffe crews being rounded up in the south of England showing them wearing both. It was thought that the metal flying badges and any sharp edges may cut or penetrate the life preserver rendering it useless.
What has become apparent when looking at the uniforms and equipment used by both sides in the conflict is that most actually preferred to wear uniform, partly due to the hot summer, when flying. These first two books in the series explore the kit and the human aspects of using it.