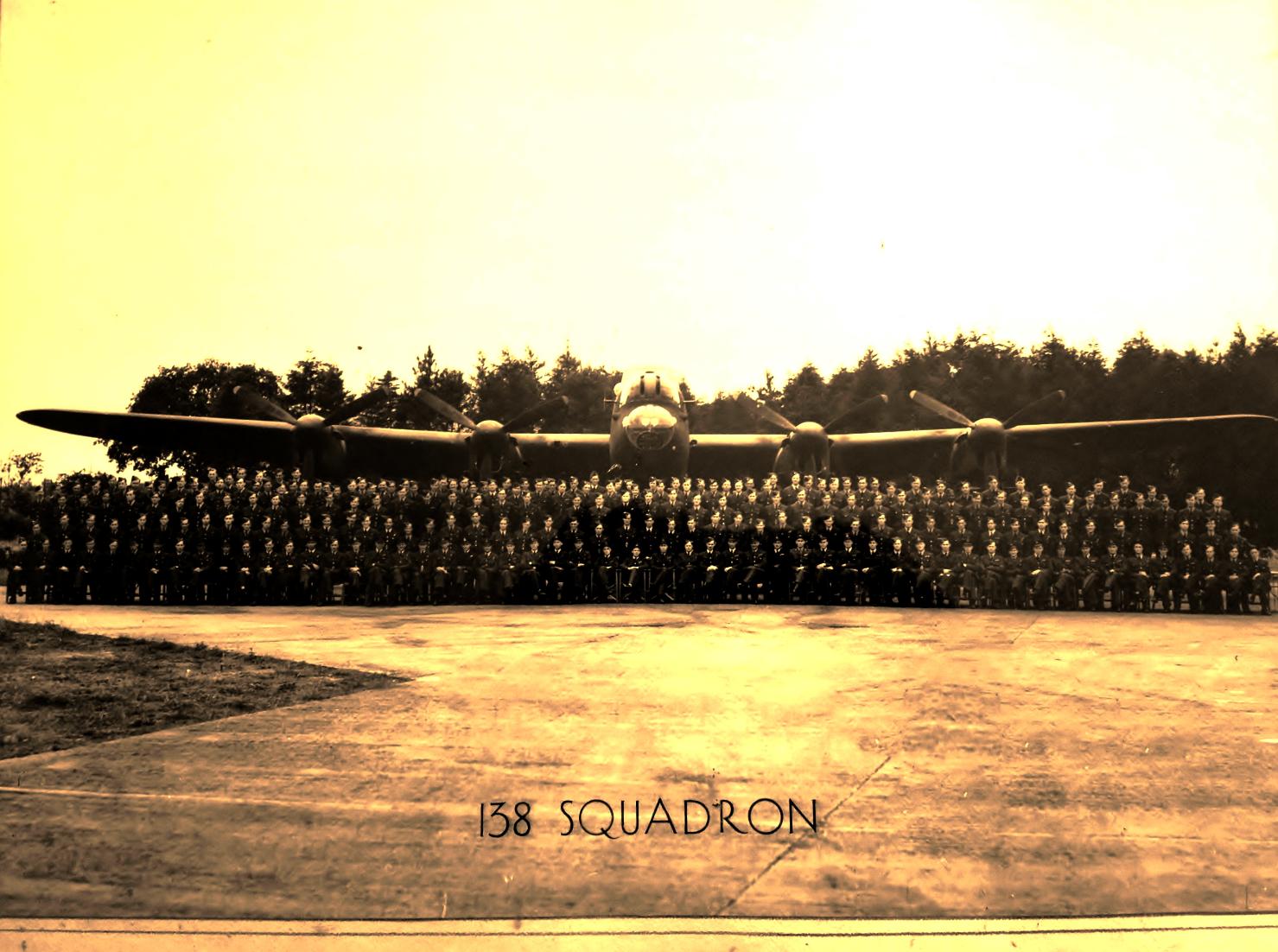 Wing Commander T C Murray DSO,DFC*,MID (33392)
Wing Commander Thomas Murray DSO, DFC and Bar, MID joined the RAF in 1937 and saw service through to 1959. He survived 78 operational trips in Bomber Command, starting out on Hampdens in 1940, going on to complete his second tour on the Avro Manchester and Lancaster. He finished the war in command of 138 Squadron, flying SOE operations in to Denmark and Norway. He is one of very few Bomber Command pilots to survive three tours of operations. Some say this is down to pure chance, my belief is that luck certainly plays a part but is not the only factor.
Wing Commander Percy Belgrave "Laddie" Lucas, CBE, DSO and Bar, DFC, wrote a book called "Out Of The Blue" "The Role Of Luck In Air Warfare" (Grafton 1987) in which he gives many examples of how luck seemed to play a part in the demise or success of air crew, dating back to First World War.
Indeed many crews flew with lucky a lucky talisman, piece of clothing or similar trinket to help ward of the gremlins and bring them back safely from operations. In some of the cases mentioned in this book it certainly seems that some crews really did lead a charmed life especially in Bomber Command, taking in to account the stark figures on losses compiled after the war and survival rates.
Bomber Command crews suffered an extremely high casualty rate: 55,573 killed out of a total of 125,000 aircrew (a 44.4% death rate), a further 8,403 were wounded in action and 9,838 became prisoners of war, of these figures 8195 were killed in flying or ground accidents and a further 18241 were recorded as being wounded in aircraft returning from operations. By 1943 the odds were that 1 in 4 crews may survive the first tour of operations. It seems that the chances of surviving two tours were as low as 1 in 40! Not many of the crews expected to see the end of the war.
Sqn Ldr Thomas Murray DFC, a flight commander with 207 Squadron was faced with a question from the King in 1942 at the mess at RAF Waddington. He asked "what will you do after the war?" Having survived one tour of ops already and by now well in to his second tour, had no idea what to say as he did not expect to survive and his thoughts hadn't even considered this possibility.
How war had blunted many a young pilots' outlook on life with such poor expectations of survival, it was more a case of live for today as tomorrow may never come!
I am a strong believer that in flying you also create your own luck and you can reduce the odds against you, taking in to account factors such as training, crew skill, leadership and determination.
Fail to plan then plan to fail, still rings true in aviation, from accurate briefings and navigation plotting to pre flight inspections and crew training drills, you can certainly increase your odds of survival. Just getting airborne and climbing up to the rendezvous was often a trial, especially in some of the earlier cantankerous aircraft such as the Avro Manchester, underpowered and unreliable. However a well trained pilot and crew, with good morale and belief in their ability may make the difference between life and death on operations.
You cannot take away the unpredictable elements such as weather, flak, night fighters, as well as aircraft reliability and serviceability, all that can be said is that the odds were stacked against these brave Bomber Command Crews.
However having talked to "Tucker" and researched his wartime career it became obvious that he was an exceptional pilot and also showed great leadership to his crews when flying as a flight commander or as a squadron commander. He was not afraid to change tactics or encourage his pilots to move away from expected drills in an effort to reduce casualties. His approach typifies an example of how you can create better odds for yourself and your crews by understanding the nature of the beast and fighting it head on. He was not afraid to lead from the front, when many Squadron commanders would not fly on ops as they didn't have their own crews, Tucker would be up taking his part in the roster for moon light drops of agents in to Denmark and Norway.
One example that Tucker mentioned during the interviews with him is that when he was on 138 Squadron, he introduced the idea of flying at no greater than 80 feet as they crossed the Danish coast. This reduced the chance of detection but also meant that German fighters could not get a shot at them from underneath the fuselage as they had been trained to do as they would end up crashing in to the ground. It took skill and courage to complete these ops and before tucker arrived on the squadron, none of the crews has up to that point completed a full tour. By introducing this tactic, the odds greatly improved which boosted morale.
Tucker was born 31May 1918. Son of Group Captain C. G. Murray who joined the RAF at is beginning in 1918 having been previously in the Army. It was his job to set up the secretarial branch of the service. Tucker grew up at RAF Halton and flew first from there in Avro 504Ks in the early 1930s. He undertook some flying training at Halton in an Armstrong Whitworth Atlas before being accepted to become an Officer Cadet at Cranwell in 1937.
Tucker flew with 49 Squadron from 1939 until 1941 as a pilot flying The Handley Page Hampden.
When war came No.49 were flying Hampdens from Scampton, Lincolnshire, and in April 1940, helped inaugurate the RAF's sea-mining campaign. Soon afterwards it began to drop bombs as well as mines, and in August 1940, one of the squadron's pilots, Flight Lieutenant RAB Learoyd, won the first Bomber Command VC for his part in a joint low-level attack by Nos. 49 and 83 Squadrons on the Dortmund-Ems Canal. The. The mine laying was against channel ports. Tucker was awarded the DFC 30th July, 1940.
Tucker was flying as second pilot\Nav on a mine laying trip to Oslo in July 1940. They entered the harbour at low level and throttled back to 120 MPH and 180 feet to drop the mine when all hell broke loose and flak came up towards the aircraft. Tracer ripped in to the aircraft and one round passed under Tucker's nose, temporarily blinding and deafening him. As the pilot made a turn to enter the fjord, they saw in front of them a huge German troop ship. Tucker had recovered enough to shout a warning to the pilot who had been injured and they pulled up just in time to clear the funnel of the ship. At this time the Germans had just invaded and the surrounding area was jammed full of troops and anti aircraft fire. They successfully planted their mine and made for home. For his part in the raid, Tucker was awarded a DFC.
Later in 1941 Tucker was posted to 207 Squadron on the Avro Manchester. The squadron took the Manchesters on their first raid of the war on 24/25th February 1941, when six aircraft attacked a Hipper-class cruiser at Brest. A year later, on 12th February 1942, its Manchesters flew on operations against the Scharnhorst and Gneisenau, when the German warships dashed in daylight from Brest to North German ports. The Manchesters continually gave trouble in service, mainly because their Vulture engines were unreliable under full load and, by June 1942, No. 207 Squadron, and the six other squadrons similarly equipped, had exchanged their Manchesters for Lancasters.
Tucker took command of 138 Squadron in December 1944. For more than three and a half years the squadron ranged Europe from Norway in the north to Yugoslavia in the south and at times far into Poland. First with Whitleys and Lysanders, then with Halifaxes and later with Stirlings it flew out from Newmarket, Stradishall and Tempsford with, agents, arms, explosives, radio sets and all the other equipment of the saboteur, parachuting them down at rendezvous points where reception committees of local underground members waited. Another, but far less frequent, type of "cloak and dagger" operation undertaken by No. 138 - beginning in September 1941 - was the "pick up" in which the aircraft (always a Lysander) landed to collect some prominent public man, or an agent, or special plans and articles.
He ended the war with a DSO and a further MID. This book Is the story of an exceptional pilot, who survived three tours of operations in Bomber Command.
I have put below a PDF copy of the book for people to download, free of charge, all I ask is that you make a donation to my RAFA facebook fundraiser
https://www.facebook.com/donate/2617184125163988/?fundraiser_source=external_url

it is an early un-proofed version but I have uploaded it so that those housebound due to COVID 19 can have some free reading.
The book and all its contents remain my copyright and shall not be re-produced without express permission.