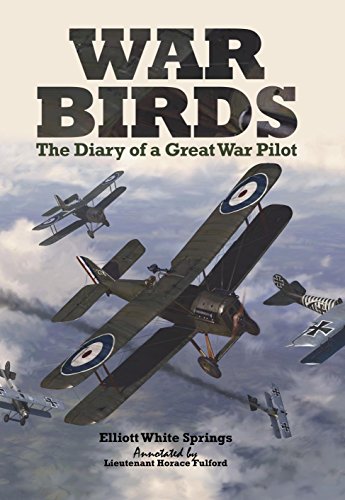 Following the declaration of war by the United States, more than 200 American men, unwilling to wait until US squadrons could be raised, volunteered to join the Royal Flying Corps in the summer of 1917. Amongst these men was John MacGavock Grider and Elliott White Springs who both joined 85 Squadron to fly SE.5 fighters. During his service with the RFC and the RAF, Grider kept a record of his experiences from when he joined up until his untimely death in 1918, when he was shot down over the Western Front. Before his death, Grider had made a pact with Elliott White Springs that in the event of one of them dying, the other would complete their writings. Springs went on to write this book, an amalgamation of his own recollections and Grider's diary and correspondence. War Birds records in detail the stresses of training and the terror and elation of failure and success during combats with the enemy the First World War. This unique edition of War Birds has been produced from a copy owned by another officer from 85 Squadron, Lieutenant Horace Fulford. In his copy, Fulford made numerous hand-written annotations and stuck in a number of previously unpublished photographs – all of which have been faithfully reproduced. I worked on this project for two years, in conjunction with the Spings Close family archive in the USA to produce this new edition of the original book with a brief history of the squadron and a background to the book. I have also added numerous notes to underpin the story and add facts to this great story. Now on Sale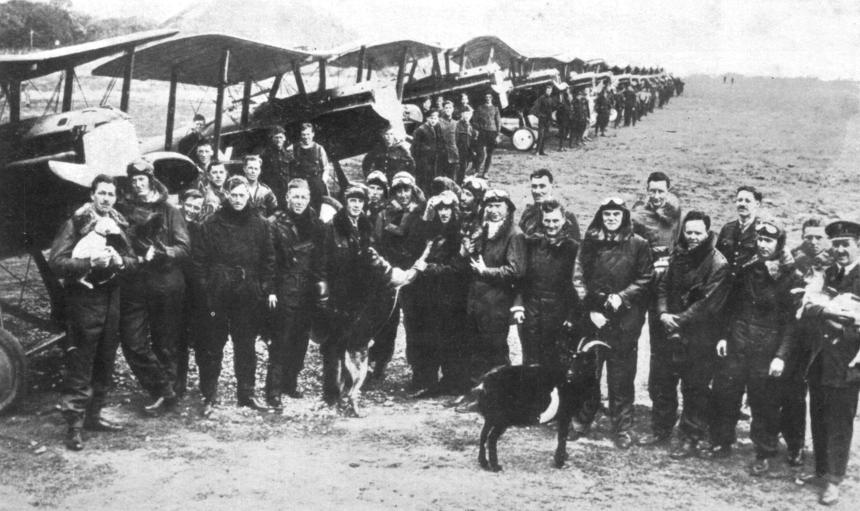 Book Review by Cross and Cockade
The John Hamilton edition of this classic was first published in 1927 as War Birds: Diary of an Unknown Aviator and established Elliott White Springs as a great story teller. The narrative is based on a combination of John MacGavock Grider's diary entries and letters, Spring's own experiences and details provided by fellow members of 85 Squadron. It is one of those essential books, telling, in detail, the daily experiences of American airmen training and then flying operationally with the RFC and RAF. It makes for fascinating reading and no member of CCI should be without a copy.
This edition is not a straightforward reprint of the original. The full, original text is there but, as the sub-title explains, there is additional commentary. Mark Hillier had obtained a copy of the book as part of his research in to 85 Squadron and, not only had it been captioned, it also contained a number of original photographs. It transpired that the book had originally been owned by Horace Fulford, who served as Armaments Officer with 85 Sqn from April 1918. Fulford's annotations are included, so that, for example, Springs writing that a machine attacked by Bishop had broken up in the air is annotated 'Bishop could, and did, saw through a plane mainspar with one burst of fire'.
Apart from the Clayton Knight paintings, this edition also contains a large number of photographs. Some of those of Fulford's, which are interesting but seem to relate to 19 TS and 42 TS at Hounslow, before the formation of 85 Sqn and it's arrival from Norwich. Others are from the Spring's family and help illustrate the first section of the book. There are, however, a good number of 85 Squadron shots, showing personnel and machines - some taken at Hounslow during the unit's time when working up to operational status and others when the unit was in France. An additional bonus is the inclusion, as appendices, of 46 combat reports, covering the period 30 May - 23 October 1918.

All in all, this package works well and would be a useful edition to the bookshelves of both those who do not yet have a copy of War Birds and those with an interest in unit histories.
Cross & Cockade International Spring 2017
Amazon Reviews
An excellent annotated version of Springs etc. War Diary. The added notes were very, very good and fleshed out what was originally a slim volume. If you are interested in the social as well as military life of the main characters, and their interaction with others both military and civilian then this is perfect. I cannot recommend it highly enough! If (like me) you are a WW1 aviation enthusiast then you will read and re-read this text..