Medals, log books and militaria research
The Medals of CharlesGeorge Lott
At the age of 8 I was luck enough to be able to volunteer for the local aviation museum at my home village of Robertsbridge in East Sussex. They had a great variety or uniforms, medals, log books, aircraft parts and relics from the RFC through to the jet age. Since those early days at the museum I have collected all sorts of items that took my interest. I started with medals and groups to RAF Aircrew, then autographed 1st edition books on the RAF and Luftwaffe. Soon my habits and tastes changed and I collected Battle of Britain ephemera and clothing, this changed to log books, Royal Flying Corps kit then Luftwaffe uniforms and equipment.
I have been fortunate to handle and have access to some fascinating items in peoples collections and to help out museums, archaeologists and dealers over the years.
My main areas of research relate to the history behind the item and the personal aspects of the individuals career. Recently I was able to help Tangmere Military Aviation Museum with sorting their medal collection, researching some of the groups and assisting with valuations including the group above, a short overview is given below.
AIR VICE MARSHAL CHARLES GEORGE LOTT CB CBE DSO DFC RAF
The emotive medal group to a Tangmere flying ace which represent the story of this heroic pilot. From left to right are the Distinguished Service Order, Distinguished Flying Cross, 1939-45 Star, Aircrew Europe star, Defence and War medal with a mentioned in dispatches, bronze oak leaf. Sadly George Lott was injured just prior to the official dates of the Battle of Britain, he missed the award of the coveted Battle of Britain bar which could be worn on the 1939-45 star by just one day! He was injured in action on the 9 July 1940.
George Lott joined the RAF as a Halton apprentice in 1922, trained as a pilot in 1927 and was commissioned in 1933. By 1939 he had risen to squadron leader rank and took over command of No 43 Squadron (the 'Fighting Cocks') four days after war was declared on 7 September 1939. He led the squadron with distinction during the spring of 1940 and destroyed two enemy aircraft and a probable Me 110 over Dunkirk. He was awarded the DFC at the end of May 1940.
On 9 July 1940, flying from RAF Tangmere and with Pilot Officer Frank Carey and Sergeant Mills, Lott met head-on six German Bf 110s off Littlehampton, Sussex, two of which he helped down. Lott was wounded when a cannon shell exploded on his armoured windscreen. Blinded in his right eye and suffering intense pain and with his Hurricane on fire he decided to attempt a return to base. However, three miles short of Tangmere, the increasing flames forced him to bail out at the low level of seven hundred feet.
His parachute opened and his Hurricane crashed on Fontwell racecourse and was completely burnt out with only the tail wheel recognisable. This was given by the squadron's Engineering Officer to a local policeman who had been guarding the wrecked Hurricane – he said it was just what he needed for his wheel barrow.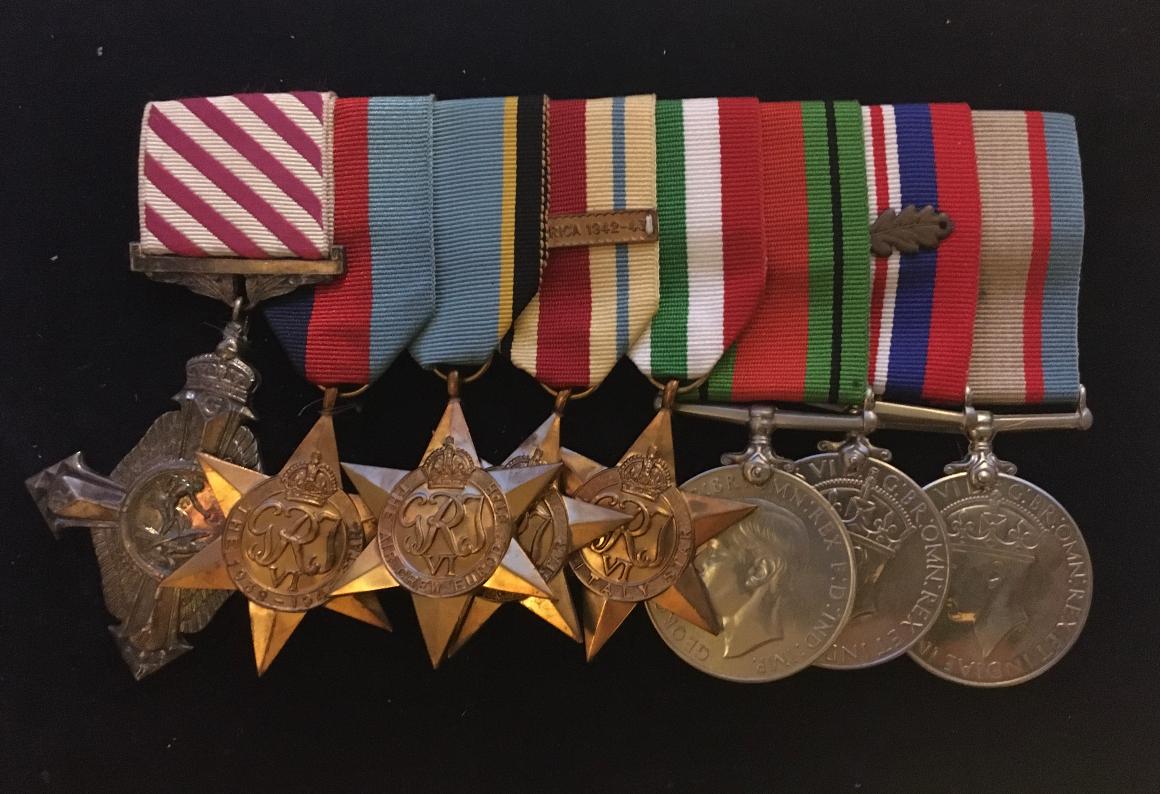 Flt Lt Godfrey Massey Ball AFC MID was another fascinating group that I have been asked recently to research. Luckily the log book was available to look at as well which confirmed he was was 43 Squadron as a Night Intruder pilot flying Hurricanes from RAF Tangmere. He also flew on some the earliest Dieppe raid sorties, attacking flak and machine gun posts with his cannon armed Hurricane.
AFC gazetted 1/1/1945
MID 2/6/43
Godfrey Massey Ball (RAAF 404227)– 43 Sqn RAF, 531 Sqn RAF listed as being operational over Dieppe for operation Jubilee.
On 19 August, the day of the operation, Tangmere's No 43 Squadron was the first to depart and led by Squadron Leader Danny Le Roy du Vivier (a Belgian), its twelve Hurricanes departed the airfield in the dark at 0425 hours and flew across the Channel to attack gun positions on the beaches and buildings immediately to the west of Dieppe harbour. In this attack, which was through intense flak opposition, two of the squadron's Hurricanes were shot down – both pilots survived. The remnants of No 43 Squadron landed back at Tangmere just after 0600 hours and were quickly rearmed and refuelled. Taking-off at 0750 hours, the squadron's second sortie was to search for ten E-boats, reported to be sailing out of Boulogne. Despite a long search, none were found and the squadron was back at Tangmere by 0920 hours. Later that morning, No 43 returned for its third sortie with another Hurricane squadron to again search for E-boats. Again, none were found.
In the early afternoon, No 43 Squadron, escorted by No 66 Squadron Spitfires, flew its fourth (and last) sortie over the beaches and harbour in an attempt to silence the gun batteries that were causing havoc to the withdrawing troops. This time the Luftwaffe Fw 190s attacked the squadron but only one Hurricane was damaged.
Extract from Night Intruder by William Kimber
Godfrey Ball, another 43 intruder, remembers a disturbing occasion on the return from an operation:
"As I descended deeper into the cloud, I experienced a frightening phenomenon: the whole inside of the cockpit was lit up by a red glow. My immediate reaction was: 'Fire!' But there was no heat and all my instruments showed everything to be in order, so I ventured to look outside. My two exhaust manifolds were belching out the usual flame, made perhaps a trifle more red and less blue from being throttled back, and this source had illuminated the surrounding very dense cloud. It was an eerie sensation but, once I knew what it was all about, it ceased to trouble me".
Another of the 43 Squadron intruder pilots, Godfrey Ball, recalls a particular problem about flying a Hurricane with drop tanks:
"This extra 90 gallons just about doubled our endurance in flying time. I always aimed to use this extra fuel up first. As we had no gauges for these extra tanks, it was necessary to time how long they had been in use very carefully for, if they ran dry, one was likely to get an air lock in the fuel system which, while not being disastrous, was very frightening, especially at night.
The Hurricane was fitted with a 28 gallon gravity tank which, when turned on, got rid of air locks very quickly, and it was fitted mainly for this purpose as air locks could also be caused by draining the main wing tanks. I allowed for a consumption of 60 gallons per hour so, when they had been on for an hour and a half, I would operate on the normal tanks. When actually in an area of possible combat, I always used the wing tanks rather than the auxiliaries.
One night over France, I ran the long range tanks dry by mistake and got an awful fright. I was only at about 500 feet when the red fuel warning light came on like a huge beacon in the darkened cockpit and, at the same time, the engine faded out. I had turned the reserve tank on in less than a spilt second but, although the engine responded quite readily, it seemed to me that it would never come good. It was only then that I found out how long 'immediate' could be, for the good book said that under such circumstances turning the petrol cock on to 'gravity' would bring an immediate response!".
He also flew with 43 Squadron in the Desert claiming a JU88
Testimonial
Mark Hillier has been a good friend of the Museum since it must be 2010,since then he has provided on a voluntary basis excellent and helpful
advice on numerous occasions in relation to the Museums exhibits and archive. Most recently Mark has assisted in identifying and valuing our large
collection of flying helmets from the 1st World War to the 1960's and thereafter also flying goggles,oxygen masks and flying boots.
He has also recently assisted in identifying original from copy medals. Marks knowledge and expertise in respect of not only RAF memorabilia
also extends to Luftwaffe memorabilia. Mark has of course also written a number of books on RAF history recent publications include The RAF Battle of Britain Fighter Pilots Kitbag and The Luftwaffe Battle of Britain Fighter Pilots Kitbag. Just released is The Royal Flying Corps Kit Bag. Mark has also assisted the Museum on a number of occasions with research on a number of subjects.
Marks depth of knowledge and expertise is outstanding and he has been and will continue to be a valued asset to the Museum
Charles Hutcheon
Curator
Tangmere Military Aviation Musem
Testimonial
I have had the privilege of knowing Mark for many years. He is a highly knowledgeable and experienced researcher and author. A professional of the highest integrity he has assisted me in the research and verification of many high value Medal and Memorabilia groups for my business. He has also provided unrivalled results in our research projects. With his specialist knowledge he is our "go to" professional for information and verification of not just the medal world but also equipment, history and most importantly the research of the "man, or woman, behind the story". We are delighted to call Mark a friend of the business.
Jonathan Goodwin
www.medalsandmemorabilia.com
Testimonial
I have known Mark for the past 8 years and during that time Mark has assisted me with research on many items that I have acquired. He has added to the stories of airmen's log books and medal groups, often finding the most fascinating connections and stories within the pages of books, operational records or service papers. Over the past few years we have assisted Mark in finding rare and unique items for his Kit Bag series of books and put him in contact with a network of collectors. His broad knowledge of aviation and in particular RAF history has always been a valuable resource for the business.
Simon Lannoy
www. themilitariadealers.com