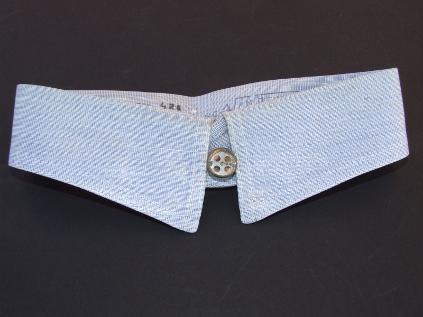 One Small item with so much history
Quite often I get asked to research militaria to produce a back story which for me is everything! its the human story that interests me and its connection to history. In this case a very small item was given to me to research although the owner knew quite a bit about the pilot who owned it, he just wanted it put into context. Here is an extract from that information (with thanks to Simon Lannoy for allowing me to use his photos and item)
The Collar stud compass off Squadron Leader Frank "Jerry" Frey DFC
Just a small collar stud compass, one that most collectors of miltaria and aviation collectibles would like to have in their collection along with other such kit carried by airmen in World War 2 as concealed button compasses, battle dress buckle compass and escape maps to name but a few items of escape and evasion equipment. If only the items could tell a story, how much more interesting they would be, provenance is everything and often tantalisingly lost or only part stories remain. This type of collar stud compass, its face painted over to hide its true purpose was designed to work with the detachable RAF Van Heusen shirt collar but in reality many pilot discarded these as they chaffed the neck and when sub-merged in water if ditching, they could swell up and choke the pilot. It's likely that it may have been worn through a button hole or elsewhere on the shirt and that the pilot wore a silk scarf to prevent chaffing of his neck.
Fortunately, the story of this particular item has not been lost to time, the pilot who owned this collar stud compass identified himself and his squadron as well as the raids that he was wearing it on when he passed it on. The most well-known of his sorties that he was wearing this collar stud compass was on the on the morning of the 17th May 1943 at 07:30 hours routing to the Moehne Dam! His task that early morning was to photograph the damage done to the Dams by 617 Squadron the previous night although many never knew it was Flying Officer Frank "Jerry" Frey who was the first pilot over the target area post raid in a PR IX Spitfire until many years later.
After the Dams Raid Bomber Command wanted a complete bomb damage assessment as soon as possible, therefore the CO of 542 Squadron Squadron Leader D Sawley was informed of the estimated time of the attacks. One of the squadron's photo-reconnaissance Spitfires was brought to readiness and prepared for its designated pilot Jerry Fray who recalled later wrote of his experience and view from 30,000 feet over the target area.
"When I was about 150 miles from the Möhne Dam, I could see the industrial haze over the Ruhr area and what appeared to be a cloud to the east. On flying closer, I saw that what had seemed to be cloud was the sun shining on the floodwaters. I looked down into the deep valley which had seemed so peaceful three days before [on an earlier reconnaissance mission] but now it was a wide torrent with the sun shining on it. 25 miles from the Ruhr the whole valley of the river was inundated with only patches of high ground and church steeples which I had seen as part of the landscape a few days before, showing above the flood water. The even flow was broken as it rushed past these obstacles. As I came nearer the dam I could see that the water was about a mile wide. I was overcome by the immensity of it and when I realized what had happened I just wondered if the powers that be realized just how much damage had been done. The Ruhr was covered with haze and when I broke clear of this, I began my photography, moving up towards the dam. It was easy to pinpoint because the breach showed up, and I could see the water rushing through. The control house at the foot of the damn, which I had seen two days before had disappeared. The level of the water above the damn had fallen, leaving huge tracks off dark brown mud around the edges. This was eight hours after the bombing" 1)
Churchill was quick to recognise the immense propaganda value of the photographs taken by Jerry and allowed them to be published in the papers. Two more flights were made by 542 Sqn over the damns after Frey's flight that day. One of them was flown by Flt Lt Gordon Puttick. By now the Germans were at a high state of alert and wary of follow up attacks and reconnaissance. This added a higher risk element to these PR flights, the pilots relying on the speed and height in their unarmed aircraft over enemy territory to bring them home safely.
Although not one to speak much about his experience Jerry did provide material for a book on the RAFs reconnaissance units written by Edward Leaf in 1997 and also an interview with the Sunday Telegraph in 2001. These PR pilots often not in the lime light were a breed apart and should not be forgotten. Flying Spitfires fitted with long range tanks, often sorties lasting several hours in cramped conditions these men endured freezing temperatures and considerable discomfort to bring back much needed target information. Not only were they operating on the margins of performance but also in unarmed aircraft, the hope being that with lighter weight the aircraft could out run and fly higher altitudes than the Luftwaffe could reach by the time the Spitfire was over its intended target.
Air Chief Marshall Sir Neil Wheeler was later to comment about his early PR experiences
Frankly, I found the extreme cold most uncomfortable. On my feet I wore a pair of ladies silk stockings, a pair of football stockings, a pair of oiled Scandinavian ski socks and RAF fur lined boots. On my hands I wore two pairs of RAF silk gloves and some special fur backed and lined gauntlets which I had to buy for myself, it was essential to maintain some fingertip control, particularly for the camera control box (2)
FLYING DETERMINATION
Born in Bristol, and the eldest of three children, he was educated at the City of London Freemen's School in Ashtead, Surrey. With war imminent in 1938 Jerry was leen to join the RAF but his parents were not very keen on him becoming a pilot so he volunteered for the army and joined the Royal Engineers. Shortly after the outbreak of war, he was sent to France and attached to the No. 4 Squadron at Mons en Chaussée. He was later Evacuated from Dunkirk in 1940. After a call for volunteers for aircrew, Jerry was transferred to the RAF for pilot training on 24 May 1941. His first flights like many on the DH Tiger Moth and Miles Master were carried out at No. 4 Elementary Flying Training School in Brough, followed by advanced training at the No. 9 Service Flying Training School RAF Hullavington. It was here that he gained his pilot wings and was commissioned into the RAF in January 1942.
'Never Volunteer' is a moto that many stuck by in the services, but Jerry recalls that for a second time he put his name forwards, this time for photographic reconnaissance duties.
I answered yet another call for volunteers, this time for PR work and I was accepted in January 1942 on being granted my wings and commission. I was then sent to 3 School of general reconnaissance at Squires Gate and qualified as an Air Navigator to Coastal Command Standards. Next I went to the PR flight at Detling for two months and then on to 8 OTU. (1)
Jerry eventually was posted to 1 Photographic Reconnaissance Unit in June of that year with his first operational sortie being carried out on the 25 July 1942 by which time he had amassed 250 hours of flying time.
After two successful operating tours, and with the war coming to a close, Jerry was posted to India to command the No. 34 Squadron at Palam followed by No. 80 Squadron in Germany, still flying Spitfires, but in a tactical role. This was followed by postings to No. 613 (City of Manchester) Squadron Royal Auxiliary Air Force, and two and a half years in Greece with the RAF Mission. Twelve months at the Staff College at RAF Bracknell preceded various staff appointments at Fighter Command and RAF HQ in Germany.
Squadron Leader Jerry Fray DFC died on 26 June 2003. His contribution to the Dambuster story immortalised in the black and white images that his unarmed PR Spitfire brought back that morning that boosted the morale of the British Public in the national newspapers. The story of the Collar Stud Compass and its legacy safe for future generations and a reminder of a brave man, typical of those who flew unarmed Spitfires over enemy territory.
Reference
Above All Unseen, Edward Leaf, PSL 1997
Proceedings of the RAF Historical Society, Issue No 10
All photo credits to Simon Lannoy at www.themilitariadealers.com