RAF Westhampnett related articles
WALLS HAVE EARS, BUT WHAT IF THEY COULD TALK?
Nestled at the foot of the South Downs adjacent to Goodwood airfield in West Sussex is a Grade II listed farmhouse that was constructed in the early 19th Century. Tucked back from the road and surrounded by outbuildings, little remains to remind the visitor of this building's use as a mess by those stationed at was RAF Westhampnett – that is, discovered Mark Hillier, until you make your way down into the cellar.
The serene setting and stately architecture of Woodcote House belies the fact that this building was the scene of many late night parties and revelry. Woodcote House is not only of architectural interest but also intertwined in the fabric of the wartime history of the adjacent RAF Westhampnett.
Early letters from the Battle of Britain period state the airfield was actually known as RAF Woodcote, a title drawn from the farm and house of that name. This rural retreat was commandeered to act as an Officers' Mess in 1940 and remained as accommodation for the pilots right through to 1945.
Many hundreds of RAF, American, Polish and Commonwealth pilots have slept under its rafters, including individuals such as Squadron Leader Sandy Johnstone, the CO of 602 (City of Glasgow) Squadron, Wing Commander Douglas Bader, the Tangmere Wing Leader, Johnnie Johnson and Baron Michael Donnet, amongst others. The list is long and distinguished!
The airfield next door was created on land belonging to Frederick Charles Gordon Lennox, The Duke of Richmond and Gordon. He had a private pilot's license and been flying from a nearby field before the war. This early airfield was to the north of Woodcote House, but as the skies darkened with the threat of war, in 1938 the flat land to the west of the farm was requisitioned by the Air Ministry. Its role at this stage was to be that of an emergency landing ground for RAF Tangmere. At this point in time, it was just literally a field with no purpose built facilities and a lonely windsock.
The airfield's status changed just prior to the Battle of Britain when it was upgraded to a satellite airfield with grass runways. Only then did some basic facilities start to appear, a watch office being amongst the early structures built. For those who had been used to the relative comfort of the Mess provided at established RAF bases, the basic nature of Westhampnett may have come as a shock. A number of early written accounts refer to pilots being accommodated in the farmhouse and other nearby cottages, the airfield itself only possessing two flight huts.
Squadron Leader (later Air Vice-Marshal) Sandy Johnstone later recalled the first time that he saw Westhampnett. "We have Westhampnett to ourselves," he wrote of his squadron's arrival at the height of the Battle of Britain on 15 August 1940. "But it is nothing more than three large airfields knocked into one with the old boundary fences replaced with camouflage paint … A belt of trees lines the eastern boundary, with two nissen huts nestling underneath. These will do for the A Flight crew rooms. A further two nissen huts on the north side will house B Flight, but they don't have any protection from trees.
"As for the living quarters, the airmen are billeted in buildings connected to dog kennels on the road to the racecourse, whilst the officers and NCOs have the use of empty farmhouses close to the airfield boundary. I am glad now that I insisted on having our camping equipment put on board the Harrows!"1
Aircraft maintenance had to be carried out in the open; airmen also found themselves sleeping in tented accommodation, in cattle sheds, even in the Duke's Kennels or under the grandstands at Goodwood racecourse. However the officers did not get a bad deal and in fact some enjoyed the informality of Woodcote House and found the accommodation much more homely.
Despite extensive research, it is often difficult to pin down which buildings were initially being used for what purpose on and around the airfield; it was a case of use what was there and no one bothered to list the accommodation in the early months of the war.
Fortunately a photograph in the archives of 610 Squadron Association provided a key to unlocking the secrets of the airfield accommodation. Taken in 1941, it showed the airfield entrance and the Officers' Mess. Along with first-hand accounts, this confirmed that Woodcote House was predominantly used by Officers, whilst Fishers Cottage, a thatched property inside the airfield boundary, housed the NCO pilots.
The officers lost no time in improving their mess. Indeed, by 3 September 1940, Sandy Johnstone was able to note: "We have made such strides with the Mess that we were able to invite Frank Carey and some of his 43 Squadron colleagues to dinner this evening, when they expressed themselves satisfied with the standard of cuisine in the farmhouse."2
Nigel Rose, then a Pilot Officer with 602 Squadron, later recalled his arrival at Westhampnett: "I wrote to my parents on the 14th August – 'we live for the moment in a typical Sussex Rectory with a delightful smell of soap, flowers and new mown grass. There are also wasps in abundance of which we bagged two 'certains' and three 'unconfirmed' at tea just after we arrived."
In 2011, Nigel returned to the Mess to meet Woodcote House's current owner, Malcolm Stoddard, to tell his story and to reminisce. He recalled how much he enjoyed the peace and tranquillity, a welcome retreat from the hectic action he faced in the air.
In fact he was not alone in recording how agreeable the accommodation was – as Wing Commander Bob Middlemiss DFC, in 1942 a newly promoted Pilot Officer with 41 Squadron, noted: "We were billeted at 'Woodcote House', a lovely old house with beautiful and well cared-for lawns. It was a very pleasant area to rest when off duty."
It seems that in the early years of the war, the Mess really was a place to relax and unwind after long days at readiness and after sustained periods of intense combat. When pilots did get any leave they often hit the regular spots in nearby Chichester, such as the Unicorn Public House, or attended parties at RAF Tangmere's Mess.
As mentioned, the other early accommodation for pilots was at Fishers Cottage, a thatched property on the airfield's eastern boundary. Initially used by the NCO pilots, it later housed both Officers and NCOs. One of the first pilots to recall the accommodation was David Denchfield of 610 Squadron, then a Sergeant Pilot:
"The aircrew NCOs were in a largish cottage in its own grounds just behind A Flight. Billy Raine and myself were in a large down stairs room, later joined by Sam Hamer. A sitting room led off this, as did the stairs to the upstairs rooms used by Hamlyn, Bill Ballard and the other NCO pilots. Two erks had a small room off ours alongside a kitchen, and they kept the place clean, woke us up for early morning readiness and generally looked after us with great dedication."
In the months after the Battle of Britain, various RAF squadrons came and went from Westhampnett. It was in 1942 that the Americans arrived.
The 309th Fighter Squadron was activated as part of the 31st Fighter Group at Baer Field, Fort Wayne, Indiana on 30 January 1942. Transferred to the Eighth Air force in the middle of May, the squadron shipped for Britain in early June, arriving at RAF High Ercall, Shropshire, on 11 June 1942. The Squadron was equipped with Spitfire Vbs and assigned the squadron code WZ. They set about familiarising themselves with their new Spitfires, training and learning RAF methods until, on 1 August 1942, they moved to Westhampnett, and became integrated with active RAF squadrons.
Following the 309th Fighter Squadron's arrival, Woodcote House became the mess for 'A' Flight. Lieutenant Harry Strawn, one of the 'B' Flight pilots, recorded in his diary that many a game of Poker was played here during down time. For his part, Harry was billeted in Fishers Cottage. In his diary he recalled:
"The field is very well camouflaged and at first I didn't see it. It's a grass field, but very nice indeed. Our quarters are a bit different now, as I'm living in an old mansion. Spike Schofield and I have a room on the second floor. We are not far from the field now. In fact I can look out of my window and see my 'plane from here. It's a change to be in something like a home even if it's old. We have a beautiful garden in the back with some flowers."
In total during the Second World War, a total of forty-one different squadrons were based at Westhampnett at various times between 1940 and 1945, from the Battle of Britain through to VE Day. Further recollections of both messes being used for entertaining and parties exist from 1943, when 485 (NZ) Squadron and 610 (County of Chester) Squadron were in residence.
It seems that the basement of Woodcote House had been turned in to an "officers' den". Colin Hodgkinson, a pilot with 610 Squadron, subsequently wrote that one night when a group of pilots returned from the Unicorn Public House in Chichester they found the Mess was in darkness and the cellar – the officers' den – was closed.
"When we got back some three hours later to Woodcote – the house on the edge of the aerodrome where we
had our quarters – there seemed no good reason why the party should die. There was drink, mainly beer, but the
fire in the hall was out and the night very cold. We were not in a state to let this be an excuse for going to bed. The … cellar being either shut or empty – I can't recall which – we set about groping around for wood. But the
only wood in sight was the banisters up the wide stone steps which led to the floor above. They were old and
looked temptingly inflammable. Within five minutes they were torn out, broken up and providing a splendid blaze."3
Eventually, at about 03.00 hours, remembering that the operation later in the day was a "big show", Hodgkinson decided to call it a day.
"I heaved myself up, gave an expansive good night to my friends and rolled towards the stairs. But [the] rum and the heady stench of burning varnish had had their effect. At that stage of my progress in walking [he had been previously badly wounded] I could get up stairs without using banisters, although I preferred them to be there. There was no doubt that I needed them now.
"All went well until I had got nearly to the top when, losing my balance, I slow-rolled sideways and outwards, clutched wildly at where the banisters should have been and fell like a log some nine feet to the floor below." Despite having been knocked unconscious, Hodgkinson was simply put to bed by his colleagues. The concussion he suffered ensured that he would not be flying that afternoon.
*
During 2011 the author was allowed access to the cellar at Woodcote House. As he ducked below the low ceiling in the poorly lit basement, to his amazement he found that the ceiling and walls were covered in pilots' signatures and various bits of artwork, all of which appeared to be from the period 1943 to 1944.
As you descend the steps in to the cellar, the visitor is almost immediately greeted by the sight of a large number "340" painted on the wall. In fact, 340 (Belgium) Squadron was in residence at Westhampnett from 4 July 1944, under the command of Squadron Leader M. Donnet DFC.
Though it is apparent that the whole ceiling of the cellar is covered in signatures, many are unfortunately indecipherable, possibly penned whilst under the influence of a few beers! Standing in the basement, it is not hard to imagine the "officers' den" heaving with pilots, chatting, singing and enjoying the camaraderie. If only the walls could speak!
Most of the names seem to be dated 1944, and some of the signatures have squadron numbers next to them such as 349 or 350. In one place a Polish signature is apparent – this is believed to be from a pilot of 303 (Polish) Squadron which was also at Westhampnett in 1944. Just how many of those pilots who signed their names on the ceiling during a party or visit, only to be lost on operations in the coming months, will probably never be known.
It is unlikely that the signatures in the basement of Woodcote House will survive forever, with dampness and the passage of time taking their toll. For the time being, however, the former Officers' Den remains a remarkable time capsule from the Second World War and an unusual part of the history of RAF Westhampnett.
NOTES:
Air Vice-Marshal Sandy Johnstone CB, DFC, Enemy in the Sky: My 1940 Diary (William Kimber, London, 1976), p.94.
Ibid, p.114.
Colin Hodgkinson, Best Foot Forward (Corgi, London, 1978), pp.145-6.
Below signatures on the cellar ceiling of Woodcote House, the old officers mess.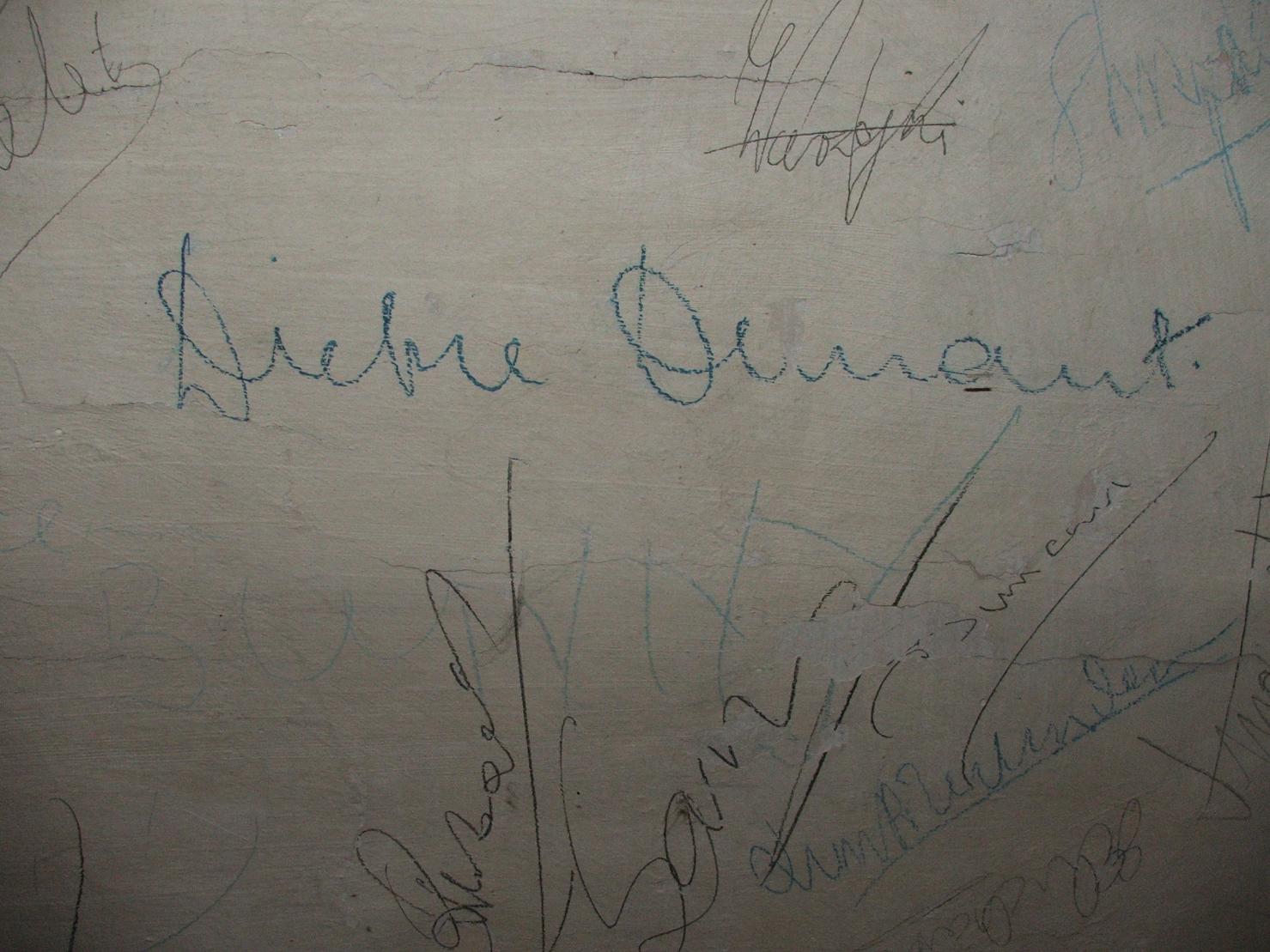 Shot Down 76 years ago, Wing Commander Douglas Bader CBE, DSO*, DFC*
Many are aware of the story of Douglas Bader and his exploits, that he led the Tangmere Wing along with other notables such as Johnnie Johnson who was later to become the Allied top scoring fighter pilot of the war. Most don't realise he flew that last operation from Goodwood with 616 and 610 Squadrons on the 9th August 1940, 76 years ago this month. His wingman whilst at Goodwood was one Sergeant pilot Alan Smith who describes for us how he was selected and what he was like as a leader:-
We had just come back from an operation and were at readiness, refuelling and such like, when a single Spitfire flew across the airfield, and performed aerobatics, the like of which you had never seen. He did three slow rolls, flick rolls and side slipped down to a perfect landing beautifully like a butterfly. He switched off and the prop stopped. The hood slid back and out got this legless guy we had heard about. He came in to the dispersal hut and said,' I am Douglas Bader and I have come to take over the wing, I have decided to fly with 616 Squadron'. All other Wing Commanders took turns to fly with all their squadrons, but Douglas looked around those standing in the hut and he saw Billy Burton, Cocky Dundas and spoke to each of them in turn. Then he spoke with Johnnie Johnson who he had obviously heard off. He looked at me and said 'who are you' I replied I'm Sergeant Smith sir. He said to me' you'll do you can fly as my number two'. Needless to say I was taken aback. I was just an ordinary Sgt pilot, I can't say that I flew with him on all trips but most. He was a great leader. He always flew after that with 616.
Bader selected Smith to be his wingman, and two of the squadrons' most charismatic pilots, Johnnie Johnson and "Cocky" Dundas, to form his section of four aircraft, which used the call sign "Dogsbody". The wing commander's only comment on choosing Smith was: "God help you if you let any Hun get on my tail." Johnson described Smith in his book Wing Leader as "leech-like, and a perfect number two who never lost sight of his leader". Alan remained friends with Johnnie Johnson after the war and described him with affection.
Johnnie was every ones pall, Johnnie enjoyed life and he was a bloody good pilot. In all the war, he only once had a bullet hole in his aeroplane. He was a damn good shot because he had spent much of his youth shooting partridges. He knew deflection, far better than townsfolk like me who had never fired a gun in his life. Johnnie used to visit me at my Mill after the war in Scotland.
My job was to watch his tail and watch out for the hun in the sun. I was to cling to him like a limpet. No one can describe what it's like to be in the middle of an air combat. One minute flying along in perfect formation, blue sky and peaceful and sun shining then all of a sudden all hell breaks loose, I called it a Beehive, aircraft going in all directions. Then all of a sudden nothing, everything vanishes. We didn't have time to be frightened, but in the middle of all this action, aircraft exploding and parachutes opening all around. In the middle of all this Bader called up Group Captain Woodhall, the Tangmere controller and say 'Woody old chap, Douglas here. I quite forgot to book a squash court for 7 o'clock, can you book one for me'. All of a sudden, there was an aura of piece around you, as you digested the fact that if Douglas was not afraid, what was I doing afraid?
Bader always flew as often as he could and he was never out of the cockpit, he was such a great pilot, I think eventually he was getting tired and could have done with a rest. He always insisted on flying on every operation. I always enjoyed flying with him and I always managed to stay with him in combat. I was too scared to leave him! He drove himself very hard harder than he expected anyone else to work. I learned all my skills from him. As we crossed the coast on the way back from France he would get you to tuck in close in formation, you felt safe with him as he was the Wing Commander. He would often beckon me closer, very close in behind his wing. You could see him in the cockpit sucking on his pipe as we crossed back over the English coast.
He was quite a colourful character, It used to be amusing that once a week that he would get a signal asking for him to 'moderate his language in the air' as the WAAF's were refusing to write down what he said!. On one occasion, I wasn't there but the story goes that he went to the cinema and asked the ice cream girl. 'Miss Can you get me a screwdriver' she promptly did, he undid a few screws and took his legs off and she subsequently feinted!
On August 9, the day that Bader was lost, Alan has been recorded as having a head cold but in an interview with him he confirmed he was off flying as he was under the weather but he had been ordered by Billy Burton, the CO, to get his new officers uniform tailored in London as he had been recently promoted to pilot officer. Bader led the Wing, with Sgt Geoff West as his wingman in place of Smith, but from the outset the operation went badly. It is still not clear what happened to Bader's aircraft, some say he was shot down, others claim it was a mid air collision, regardless he bailed out and spent the rest of the war as a PoW. Alan recalled that it had a serious affect on morale.
The morale was affected; we thought we would get our revenge as they had taken Bader away. A real loss to the Wing. He had such a strong personality and was a good leader. I can't say that had I been flying that day that things would have been different but I often wonder if I had been there, if I could have made a difference at all. Maybe I would not have come back? I remember on 'This is your life' for Douglas that when Geoff West came on he accused Geoff of shooting him down!
Bader had lost one of his false legs when he was shot down, and the Germans offered free passage to an RAF aircraft to drop a replacement near St Omer, where he was being held. The RAF refused, and a few days later mounted a bombing operation during which a new false leg was dropped by parachute. Smith, who had just been commissioned, was one of the pilots that escorted the Blenheim bombers on the mission.
I can still remember seeing the box dropping under the parachute; it was one hell of a day, low broken cloud and rain. We had six Blenheims, the weather was appalling and the bombers could not drop their bombs on the target at Lille, but the leg was dropped over St Omer.
Smith remained with No 616 for three more months, during which time he damaged a Bf 109. On September 21st he shot down another near Le Touquet. He left the squadron in November of 1941, when he was awarded a DFC, the citation concluding: "In combat, he has been of great support to his leader."
Photo below of Sgt Alan Smith of 616 Squadron who flew as Baders wingman. (via Alan Smith, Mark Hillier)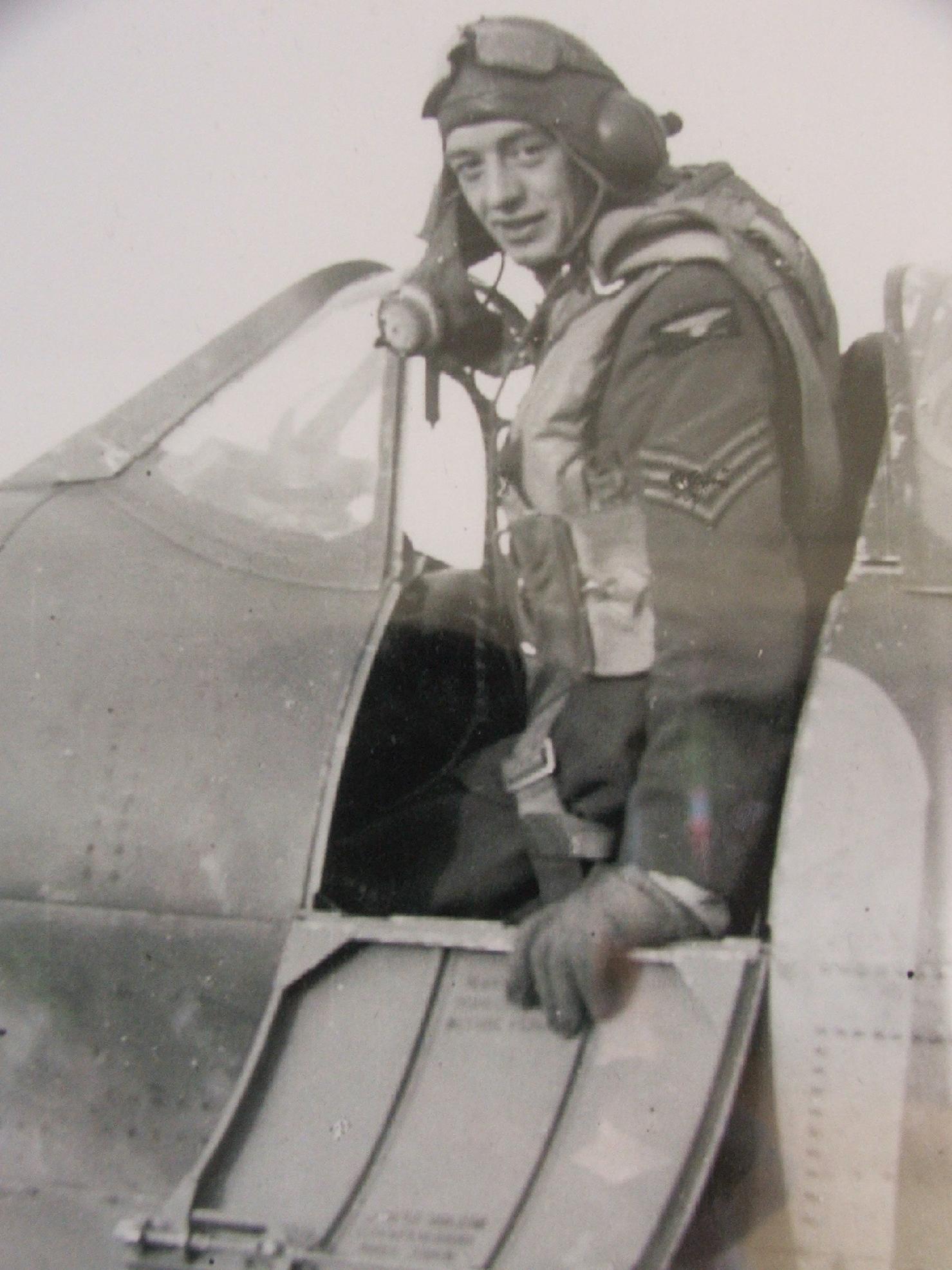 Sgt Mick Wilson and the Channel Dash
129 (Mysore) Squadron were based at RAF Westhampnett from 29th August 1941 through to 29th July 1942 with some other short detachments during that time. One of its pilots was a young sergeant pilot by the name of Raymond Wilson. The squadron suffered heavy casualties during its stay, taking part in numerous convoy patrols, rhubarbs and sweep Raymond himself was in the thick of the action, with one particular sweep over Gosney sticking out in his log book. 21st September 1941, His entry starts with 'bit of a shambles got jumped over Le Touquet'. His combat report reveals that they were jumped by numerous Me 109E aircraft and Wilson describes the events.
I was Yellow 2 flying at about 18,000 feet, 10 miles east of le Touquet when I saw an Me 109 e on the tail of white 2 and firing at him. I shouted to him to break and broke to the right myself to engage he enemy aircraft which climbed away too steeply for me to overtake him. I then broke left to rejoin my flight which I could not find. Another 109E then attacked me from port and I evaded with steep turns to port till I saw white 1. I climbed to join him and then had to break left to avoid 4 Me109E aircraft which were diving in line astern from above. White 1 dived to attack an enemy aircraft below him and then as I climbed to rejoin him four 109's dived and attacked from astern. As 1 enemy aircraft came up from behind white 1, I broke across to the right and opened fire from about 100 yards on his port side with about a 4-5 second burst; as enemy aircraft flew through my fire a cloud of white smoke poured from his engine and he fell away to the right apparently out of control.
Not a good day for the unit, on this occasion three aircraft were lost, one being flown by Squadron Leader Armitage the squadron boss, he managed to bail out and was taken PoW, one being piloted by Sgt Lloyd Macdonald who was killed in action and buried in Boulogne Eastern Cemetery. The aircraft piloted by Sgt Drew was shot down and he managed to bail out and was later picked up by air sea rescue.
The squadron were kept busy and by the 12th February 1942 they were back operating from RAF Westhampnett, little did they know they were to be involved in a very costly operation that was to see significant losses as the allies tried to stop the German Pocket battleships which were making a dash up the channel. Sgt Mick Wilson was on ops on the morning of the 12th Feb but the weather was bad and the squadron was grounded. Late afternoon saw them brought the readiness to escort cannon armed Hurricanes of 1 squadron from RAF Manston. They thought it was just a shipping strike. How did this operation all come about?
In March 1941 the German battle-cruisers Scharnhorst and Gneisnau were taking refuge in the French port of Brest , they are soon to be joined by the heavy cruiser Prinz Eugene which has recently left the battle-cruiser Bismarck to it's fate at the hands of a British Navy determined to avenge the sinking of HMS Hood.
Responsible for heavy losses of allied shipping in the North Atlantic, they are subject to constant surveillance and regular air raids from the other side of the Channel as the British ensure they remain bottled-up on France's Atlantic coast. One of the reasons the Scharnhorst and Gneisnau had been unable to assist the Bismarck.
Adolf Hitler, was in need of his ships for the defence of German occupied Norway and for intercepting supply convoys bound for the Soviet Union, so he ordered their return.
A plan was put forward to break the ships out and make for Germany via the English Channel, passing through the Straits of Dover. Some thirty escort ships accompany the cruisers, which have themselves were fitted with extra anti-aircraft defences.
The newly appointed Commander of the Luftwaffe's fighter Arm, Oberst Adolf Galland was personally tasked by Hitler to provide air cover for the convoy during it's dash. On 11th February 1942 under cover of darkness, the cruisers slipped undetected into the English Channel and made for the Straits of Dover at great speed.
The start of the operation was delayed by several hours due to an RAF raid on the harbour. Relying on the element of surprise and subject to complete secrecy during it's planning, Operation Cerberus got underway, this later became known as the Channel Dash.
129 Squadron were scrambled from RAF Westhampnett and arrived on the scene in the afternoon in very poor visibility and were thrown into the thick of the action. Sgt Drew was almost immediately shot down and Mick Wilson lost a third of his wing to flak from the enemy ships. Ray Sherk had his aircraft riddled and another pilot was shot in the foot. They recalled seeing boat masts but the targets were not clear. Using a Spitfires cannon to try and stop these ships would have been like throwing a tennis ball against a brick wall!
Mick Wilson limped his badly damaged aircraft back to near Ipswich and bailed out. Recently his first pattern C type leather flying helmet and his gold caterpillar badge with his Irvin chute bag came up for sale, the caterpillar was awarded for his bail out on this day. It cannot be proved that this helmet was the one he was wearing on that operation but shortly after he was posted out and promoted to Flt Sgt so it is very likely as it is also an early pattern helmet issued in 1941. A very exciting lot to find, easy to research as his service number and squadron number were all recorded on each item.
Caterpillar badges are now commanding prices in excess of £400 but for a lovely group with such provenance prices will be in excess of £1700 for the helmet, caterpillar and chute bag.
He was entitled to the 1939-45 star, Aircrew Europe Star, Defence and War Medal.
Below Sgt Mick Wilson of 129 Squadron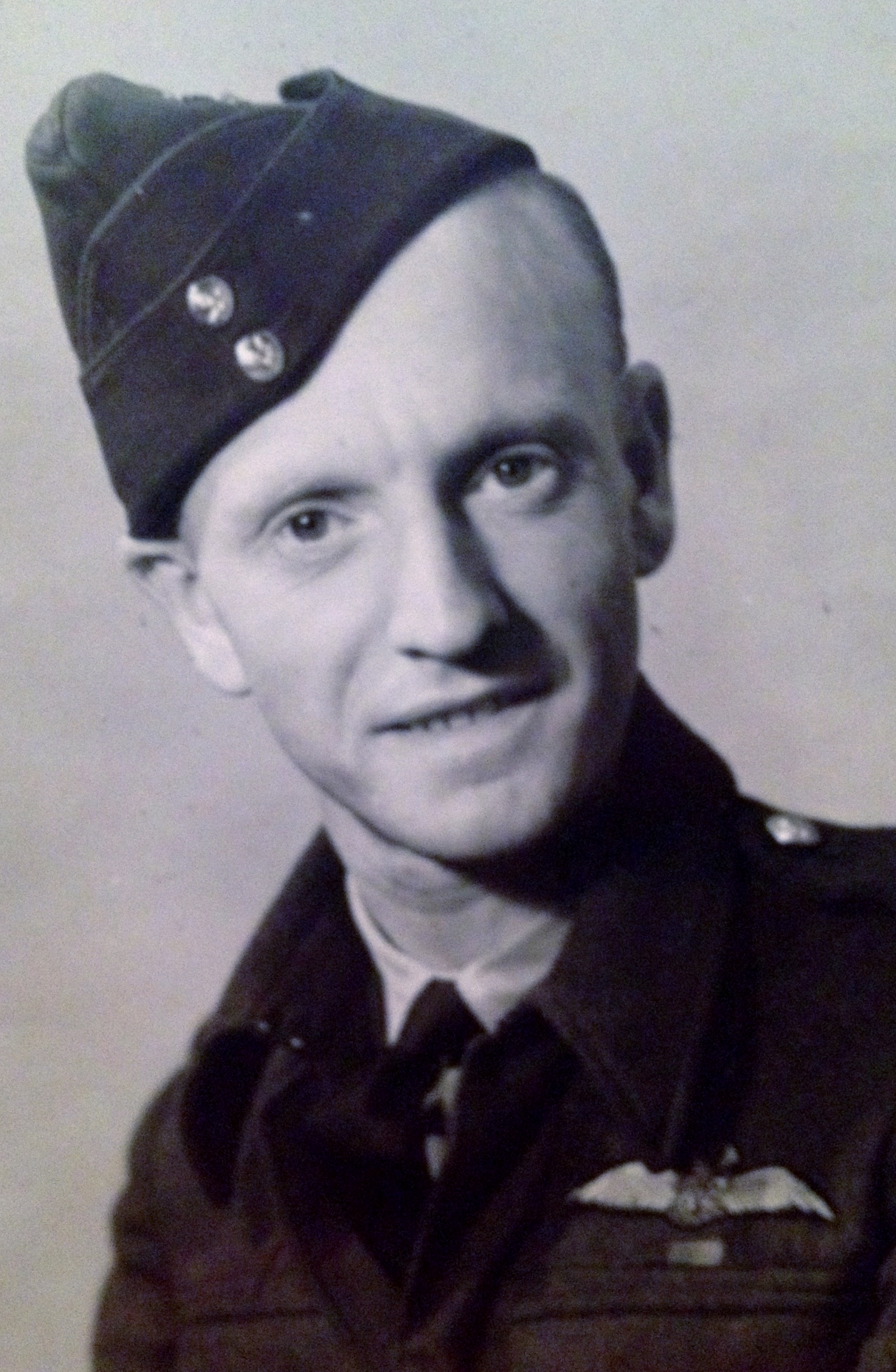 Frederick Anthony Owen "Tony" Gaze DFC **, OAM
I often wonder how many people wander around the Goodwood Circuit and never realise the significance of the names on the walls of the buildings, a bit like street names really, just another address named after some 'celebrity' of years past or maybe someone who owned the land? I often stop and look at blue plaques on the walls of houses and out of inquisitiveness I will look up the individual, just to cure my nosey-ness and hopefully to make me a more rounded player of pub quizzes! That small element of education helping to fill that dark chasm of my brain which is not stuffed with aviation and reserved for trivia.
How many actually realise that the Tony Gaze building is named after a visionary and ace fighter pilot who influenced the beginning of the motor racing circuit. Frederick Anthony Owen "Tony" Gaze was a well decorated fighter pilot with not one but three Distinguished Flying Crosses, who started his wartime career on an operational squadron at Westhampnett.
Post War he went on to have success in motor racing, but most importantly it was he who suggested to the Duke Of Richmond that the old perimeter track of the airfield be put to good use as a replacement for Brooklands. He is intrinsically tied up with the whole fabric and being of Goodwood and as such is a man that should not be forgotten to history, hence the dedication of the building by Lord March in 199? to recognise this link.
Where did all this start and how did Tony, an Australian, come to be a Goodwood back in World War Two? Tony already had relatives in the UK who lived at the Old Mill, just down the road from the airfield and although schooled at Geelong Grammar School back home, at the outbreak of war in 1939 he was a student at Queens College Cambridge in the UK.
He signed up for the RAF as a pilot in 1940 and completed his training in 1941. His first posting was to RAF Westhampnett in March of that year to fly Spitfires with 610 (County of Chester) Squadron at Goodwood. 610 was part of the Tangmere Wing at that time being led by the famous Wing Commander Douglas Bader. However most are not aware that it was not Just Tony but also his brother Irvin Scott Gaze, both had joined up to fly for the RAF at the same time.
The squadron were involved in sweeps over France and standing patrols, intercepting raiders along the coast and they had a busy year. Unfortunately Irvin did not survive to get into the swing of the action when on the 23 March he was tragically killed whilst flying a patrol. Tony latter commented on this particular sortie that : "we were all flying in very low cloud expecting Ju 88 and Do 217 intruders popping out of the cloud and bombing. I made sure I was over the sea before breaking cloud and found we had two aircraft missing after landing, including Scott's".
The squadron landed at Westhampnett hoping that both missing aircraft would return, one did, but a pall of smoke coming from behind the Downs turned out to be Scott's aircraft. His aircraft had crashed at West Dean and was in one piece giving the impression that it had probably spun in. Scott was buried in Chichester.
Tony opened his account of enemy aircraft on the 26 June during a sweep over France, claiming a Bf 109 E and a further probable 109. Tony fought his way through the summer of 1941 with several more victories and a DFC to his name. He was posted for a rest as an instructor in November 1941 but this was not to be his last association with the airfield.
What followed reads like a boys own adventure with Tony being posted for a second tour on Spitfires with 616 Squadron on the Dieppe Raid in 1942, then as squadron commander of 64 Squadron on Spitfire Mk IXs before being posted back to 616. Later in 1943 after a rest from a prolonged period of stressful operations he was posted to 66 Squadron at Kenley and his luck ran out, being shot down by an Fw 190 and he crash landed near Dieppe, making a successful 'Home run', evading capture with the help of the French resistance through neutral Spain.
In 1944 he returned yet again to operations with 610 Squadron claiming of all things a V1 flying bomb in a Spitfire Mk XIV from RAF Friston. This in itself was a dangerous pastime, chasing V1 flying bombs and trying to stop them reaching the capital. On the 14 February 1945 Tony then shot down an Me 262 German twin engine jet fighter, the first Australian to do so as well as an Arado 234. He was then posted to 41 Squadron for a short while before a final posting back to one of his old units 616 (South Yorkshire) Squadron to fly the new Gloster Meteor just before wars end. He finished the war with 11 confirmed victories and 3 shared with a further 4 probabales, 5 aircraft damaged and a V1 having won 3 gallantry medals for his efforts! What a pilot.
It was in 1948 that Tony had suggested to the Duke of Richmond that the former RAF airfield at Goodwood could possibly be the replacement for Brooklands. Tony's need for speed continued post war in motor racing, competing in the 1952 Belgian Grand Prix but he also competed in many other countries and he also helped to establish the first all Australian overseas racing team. Tony also had a thing for Gliding and he represented Australia in the 1960 World Gliding Championships.
He certainly lead an action packed life and he sadly passed away on the 9 July 2013 aged 93. He definitely earned the right to be remembered at Goodwood, and I hope through this article that those who pass the 'Gaze' building from now on will think of him and wonder at his marvellous career but also not to forget the sacrifice of his family during the War with the sad loss of Irvin who is buried in Portfield cemetery, Chichester.
Below a photo taken by the auhor at the 2010 revival, Goodwood with two squadron mates, reunited, on the left Bob Large, on the right Tony Gaze. (Mark Hillier)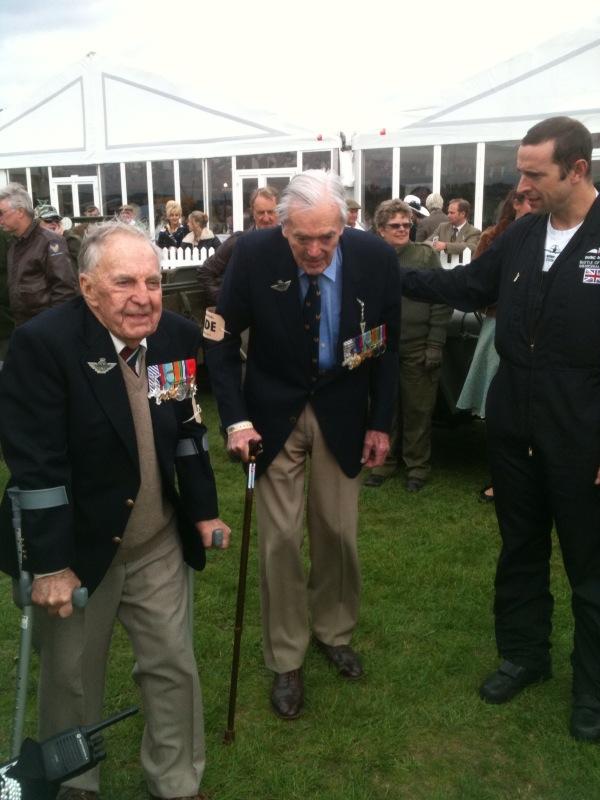 Goodwood Aerodrome & 'The Channel Dash'
75 years ago this February sees the anniversary of Operation Cerberus so named by the Germans in World War Two during which Spitfires from RAF Westhampnett were scrambled to assist in the RAFs efforts to stop this mass break out of German Battle Cruisers from Brest with catastrophic results.
In March 1941 the German battle-cruisers Scharnhorst and Gneisnau were taking refuge in the French port of Brest. They were joined by the heavy cruiser Prinz Eugene which had recently left the battle-cruiser Bismarck to its fate at the hands of a British Navy who were determined to avenge the sinking of HMS Hood.
Responsible for heavy losses of allied shipping in the North Atlantic, these ships were subject to constant surveillance and regular air raids from the other side of the Channel. The British ensured they remained bottled-up on France's Atlantic coast, which was one of the reasons the Scharnhorst and Gneisnau had been unable to assist the Bismarck.
Adolf Hitler needed his ships for the defence of German occupied Norway and for intercepting supply convoys bound for the Soviet Union, so he ordered their return to Germany. A plan was developed to get the ships out and make for Germany via the English Channel, through the Straits of Dover. Some thirty escort ships accompanied the cruisers.
On 11th February 1942 under cover of darkness, the cruisers slipped undetected into the English Channel and made for the Straits of Dover at speed. Operation Cerberus got underway, this was later to become known by the Allies as the Channel Dash
129 (Mysore) and 41 Squadrons were based at RAF Westhampnett and were to be thrust into the action to help stop the break out, both armed with cannon equipped Spitfire Vbs and were scrambled from RAF Westhampnet into the Frey. The Luftwaffe always had at least 16 fighters over the flotilla day and night and the sky would also have been full of RAF fighters and bombers. In total the RAF put up 398 fighters over the period of the dash and over 300 bombers. Sergeant Drew of 129 was almost immediately shot down and another Sergeant Pilot Mick Wilson lost a third of his wing to flak from the enemy ships. Using a Spitfires cannon to try and stop these ships would have been like throwing a tennis ball against a brick wall.
Ray Sherk, one of the veterans of the operation who is still alive and flying in Canada remembered this day vividly "We were called to readiness at noon (without dinner) and took off at 1:15 p.m. to escort some cannon armed Hurricanes of No 1 Squadron to shoot up some shipping of Calais that turned out to be the Scharnhorst and Gneisenau with some destroyers. Several aircraft missing, Dixie Davis was shot down and killed in action, McPhie got a bullet in his shoe which grazed his heel and had several bullet holes in his aircraft. Sergeant Mick Wilson bailed out over Ipswich after losing part of his starboard wing. Bowman got two Bf 109s damaged. It was a pretty shaky do I recall avoiding ship masts. I was involved in the melee but was not hit although a shell from a destroyer just missed me!. Upon our return, the intelligence officer Flying Officer Chapman was very interested in our individual recollections and we were interviewed extensively. It was much later on that we learned the full extent of the operation".
Below, Photo of Ray Sherk with his Spitfire at Goodwood in 1942 (Author collection from Ray)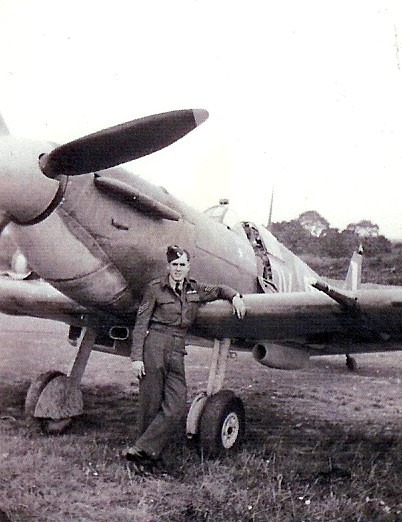 Air Vice Marshall James "Johnnie" Johnson CB, CBE,DSO and two bars, DFC and bar.
During the five years of operational squadrons based at RAF Westhampnett, many aces, high ranking officers, war artists, members of parliament and even royalty were to visit and the list is a who's who of World War 2. Douglas Bader as we know was stationed at the airfield in 1941 but we must not forget that one of his section of 616 Squadron operating at RAF Westhampnett in the summer of 1941 went on to be the RAF top scoring ace of World War 2 and for me eclipses all others.
"Johnnie" Johnson not only flew 700 Spitfire combat sorties during WW2 but he went on to score 38 confirmed victories, some of which were claimed whilst flying from Goodwood. He also was awarded a staggering three Distinguished Service Orders (one award below Victoria Cross) and two distinguished flying crosses amongst other awards from other allied countries.
His first 'innings' at the airfield as a pilot officer started when he was with 616 Squadron at Goodwood in May 1941 flying as part of 'Dogsbody' section. On the 26 June he was to score his first success against a Bf 109. Soon after his score stated to build rapidly, destroying two more on the 6 and 14 July 1941. His score card was well and truly opened and his success as a fighter pilot is now legendary. He was on the operation that Douglas Bader was shot down on the 9 August 1941. Post the loss of Bader, he famously had painted a slogan on the cowling of his Spitfire after stating "Bader Bus Co Still Running". By September of 1941 he had claimed his fifth and sixth confirmed victories.
He was posted as squadron commander to 610 (County of Chester) Squadron in 1942. The squadron was to return to RAF Westhampnett after its first tenancy in 1941. It arrived in January of 1943 staying until April of that year. "Johnnie" Johnson claimed his 8 and 9th victories at this time whilst leading his pilots from the airfield.
His success continued as did his luck and he was promoted to Wing Commander to lead the Kenley Wing. He also subsequently lead a Canadian Wing of Spitfires in 1944 tasked with keeping the skies clear of enemy aircraft over the eastern flank of the D-Day invasion fleet. The replica Mark IX Spitfire owned by Boultbee flight academy pays tribute to Johnson and is painted just as his aircraft was on the 6 June 1944 coded JE-J.
A truly formidable fighter pilot he did not stop at the ends of hostilities and went on to serve in the Korean War and remaining in the RAF gaining the rank of Air Vice Marshall. His book 'Wing Leader' is an inspiring read and mentions his time at Goodwood both as a squadron pilot and squadron leader, highly recommended to the aero club members. Also a number of books on his career have been done by Dilip Sarker if you want to read more on his life and achievements. One of our most famous pilots who sadly passed away in 2001 aged 85.
Photograph below from Sir Alan Smith, standing on the far right, next is Douglas Bader, Cocky Dundas and then Johnnie Johnson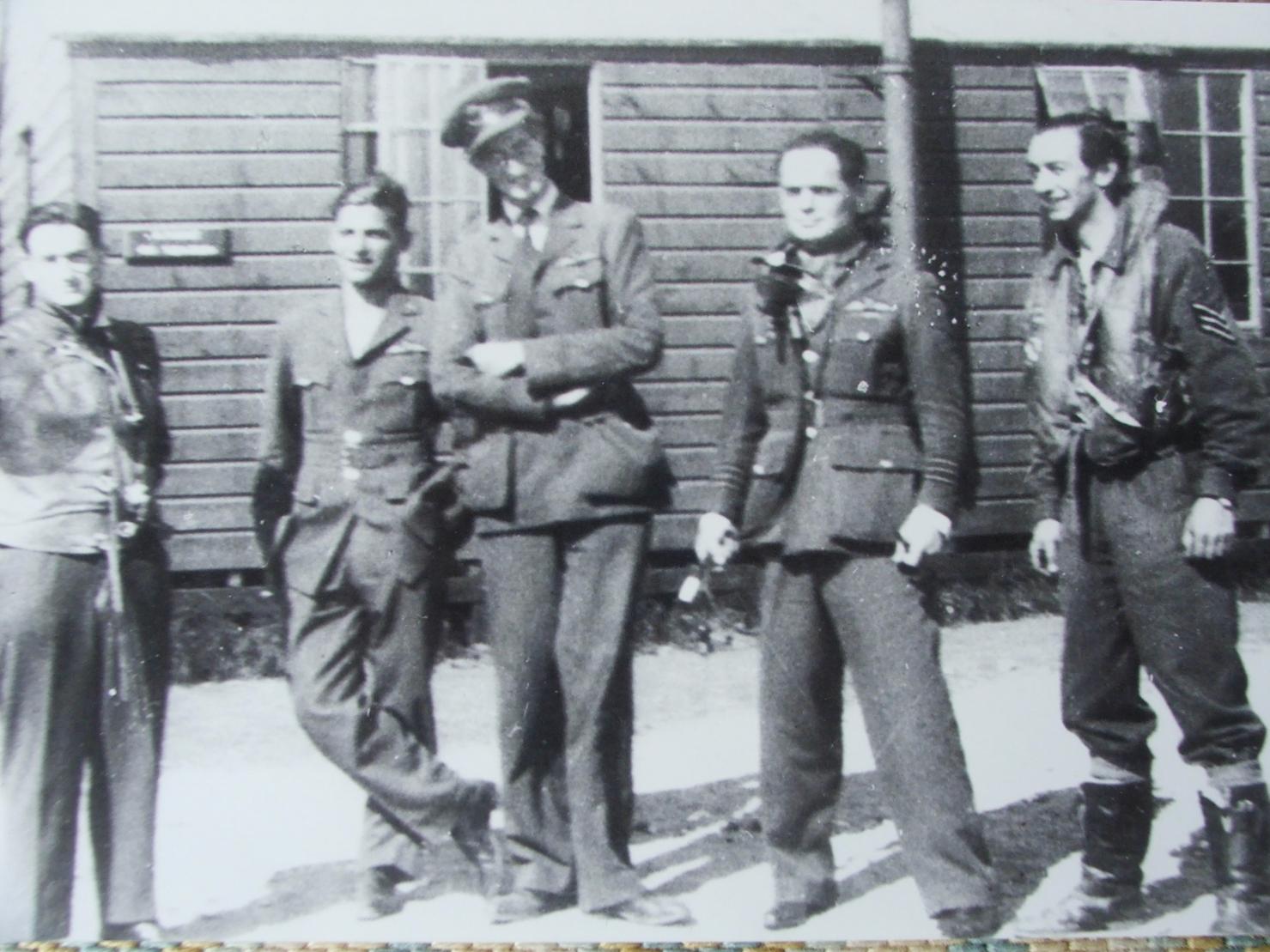 RAF Canine Companions at Goodwood.
The connection of pilots and their four legged friends dates back to the first world war, many squadrons having a squadron mascot who would live in and around the hangers and became part of the RAF family. Loyal and attentive to their masters, they offered a sense of calm and companionship in an otherwise traumatic environment. Goodwood was no different in World War 2 with pilot's dogs appearing in snap shots as early as 1940.
From 1940-1945, over 46 squadrons were based at RAF Westhampnett. Many hundreds of young men and women served on or in and around the airfield who, when off duty would head off into Chichester and the local area in search of beer, company, dancing and good times although some just wanted to return home for a much needed rest. Some found solace and companionship with their dog.
The first squadron to arrive at Goodwood or RAF Westhampnett in July 1940 were 145 Squadron who had moved over from RAF Tangmere. They too brought an assortment of pooches with, theirs was Bill the Dog.
The earliest known dog of 602 Squadron during September 1940 onward was that of Pilot Officer Patrick 'Paddy' Barthropp who flew during the Battle of Britain from the airfield. His dog was a dachshund called Blitzkrieg, the squadron also has an Alsatian called 'Crash' and another dog called Mr Jackson, a small terrier. They roamed the dispersals of the squadron and appear in the squadron photograph.
129 Squadron who arrived at the airfield in late 1941 had a Dutch pilot who had escaped from captivity by stealing a German float plane. His name was Govert Steen and he had an Alsatian called Jan who appears in a number of squadron photos some posed some accidental as she roamed the dispersal. Sadly Govert Steen was lost on operations and the Dog was adopted by another pilot Phill Stuart from New Zealand who recalled that she was very protective of her pilots:-
Steen had a fine German Shepard and when he went missing I took over the care of Jan. Although great fun and friendly to pilots he was a bit of a snob and not happy to allow other than plots into our dispersal huts apart from the few groundcrew who regularly worked their. On one occasion I had trouble with a Spitfire engine fault and on landing back at Westhapmnett I was unable to taxy it back to our dispersal. It was teeming with rain so I borrowed a mechanics rain cape and bicycle and rode back the hut. When I went to go in Jan was not having any of it, barred his Teeth and growled at me and then when I spoke to him he was overcome with remorse!
Even the American pilots of the 309th Squadron who arrived n 1942 had their squadron mascots. Lieutenant Harry Strawn found himself besotted with an old Irish Setter pub he picked up in London whilst on leave and brought him back to live with him at Goodwood.
Right through the RAFs period of tenure at the airfield there are several constants in all of the period photos, cars and dogs. Its clear that our four legged friends were very important to the men, a sense of home maybe, normality, companionship and loyalty.
Below Paddy Barthropp of 602 at Westhampnett in 1940 with his Dachshund named Blitzkrieg (602 Museum)